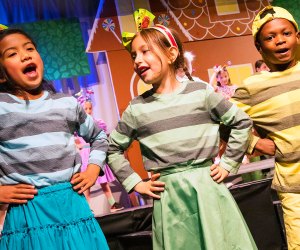 Wolf Performing Arts Center
Since 2005, Wolf Performing Arts Center has been dedicated to enriching the lives of young people through learning, experiencing, and creating theatre.
Through professionally-staged theatre productions, private lessons, theatre classes, workshops, summer theater camp, and visiting artist programs, Wolf PAC's programs are specifically created to inspire reach, access, and diversity while focusing on creating memorable theater experiences for children ages preschool through 12th grade.
Programs are year-round and are packed with singing, dancing, acting, and improv and taught by professional teaching artists. A membership option is offered, where you can save on tuition, purchase discounted tickets, and more.
Wolf PAC's Programs:
Main stage performances for 1st-12th grade
Theatre classes for preschool-12th grade
Workshops
Private lessons
Technical apprentice programs
Visiting artist program
Summer camp
Scholarship opportunities
Membership.
Follow Wolf PAC on Facebook, Twitter, Instagram, LinkedIn, YouTube, and Pinterest!
---
Wolf Performing Arts Center
Reviews