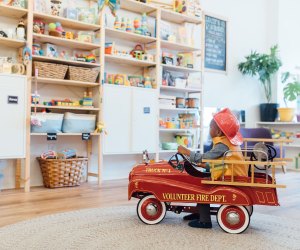 Rutabaga Toy Library was created to help your family live a more sustainable lifestyle and to provide an experience that feels good on your conscience.
Toy Lending Library
The folks at Rutabaga believe that sharing instead of buying new is not only good for the environment, it also helps build strong communities. A Toy Library membership is a zero-waste solution for eco-conscious parents. With 1700+ toys, games, puzzles, books, and more for ages 0-8+ years, it's the perfect way for your family to shrink your carbon footprint while keeping the kids entertained.
Birthday Parties
Who doesn't love a good party? But when it comes to kids' birthday parties, eco-friendliness often takes a back seat. From the plates, cups, and napkins, to the disposable tablecloths, balloons, wrapping paper, and banners . . . so much waste. But it doesn't have to be that way! The Rutabaga Team has perfected the process of cutting out the waste, including not wasting money on things that you'll throw away a few hours later. Throw the best eco-party in Philly, without doing the dishes yourself.
Nature Arts Camp
The Nature Arts Program provides a safe and wondrous environment for children to explore storytelling, mother nature, science, and most importantly, outdoor play. The goal is to encourage expressive, unstructured creativity through play and arts. A small group of explorers go on discovery outings in the East Falls neighborhood and return to the library with impressions, materials, and ideas for artistic creation. These uniquely curated enrichment activities are designed to foster your child's natural curiosity and independence.
Reviews