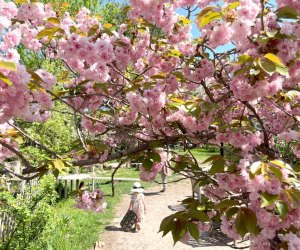 Reminiscent of an arboretum, KWS's expansive 430-acre campus serves as the backdrop for preschool through 12th grade students who have received a holistic, arts-integrated and academically rigorous approach to education ever since the school was founded in 1941. 
Kimberton Waldorf School's early childhood program provides a warm and homelike environment to children ages two through six. Using natural materials and simple toys, the space encourages imaginative play and creative thinking. The homelike atmosphere is free from screens and electronics, allowing children to fully engage with the world around them. Kimberton Waldorf School believes in the importance of nature and outdoors for all children and features year-round outdoor playtime, where children can explore the natural world, breathe fresh air, and engage in physical activity.
There is a strong emphasis on steady daily rhythms, which provide a sense of structure and predictability that is essential for young children's well-being. Home-cooked organic meals and snacks are provided daily, supporting healthy development, and setting the foundation for future academic learning. At Kimberton Waldorf School, education is not just about academic learning, but about nurturing the whole child. The curriculum focuses on developing social skills, emotional intelligence, and fostering a joy that will last a lifetime.
The preschool program, Rosebud, is located on its own campus on a picturesque rural landscape. The one-acre enclosed play yard is shaded by tall leafy trees and full of flowers and lavender bushes. Children are free to climb the handmade and open-ended play structures, build in the sandbox, and be immersed in nature all within the safety and arms reach of their teachers.
Kindergarten is located on KWS's main campus and welcomes Pre-K and Kindergarten age children to its two-year program. As part of the curriculum, each of KWS's three kindergarten classrooms take turns getting an experience in the forest program area. They enjoy circle time beneath the trees, eat corn - freshly popped over the campfire - for snack, and sip aromatic mint tea between explorations and games. KWS's forest is the perfect place for children to explore the outdoor world, giving them the opportunity to use their imaginations, develop critical thinking skills, stretch their muscles, and hone their motor skills. 
Sign up for the Mommy Poppins Newsletter today!