Best July Fairs and Festivals in New Jersey for Families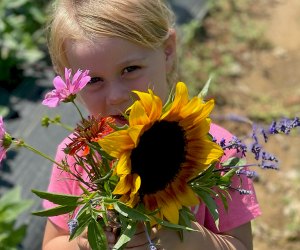 Looking for the best July fairs and festivals for New Jersey families? Here are some to add to your list.
Soak up the sun, build some sandcastles, and admire fields of sunflowers at family-friendly summer fairs and festivals throughout New Jersey this month. Independence Day festivities kick off a festival-filled month. Plus, plenty of county fairs offer good, old-fashioned fun in July—swing by events in Cumberland, Ocean, Morris, Gloucester, and Monmouth counties.
Hit the Jersey Shore for fun-in-the-sun festivals like the Wildwood Crest Sand Sculpting Festival, the Anglesea Blues Festival, and the Cape May Beer ans Crab Festival. And admire a sky full of brilliant colors at the 39th Annual New Jersey Lottery Festival of Ballooning and the Warren County Hot Air Balloon Festival.
Mark your calendars with these July fairs and festivals. And for more July happenings, check out our rundown of the best family-friendly activities in July and our Summer Fun Guide for NJ Kids.
We're adding more events to our Family Activity Calendar every day, so don't forget to check it frequently.
Be sure to click through to our listings for full details, including addresses, times, and recommended ages and keep in mind, advance tickets may be required.
Subscribe to our newsletters to get stories like this delivered directly to your inbox.