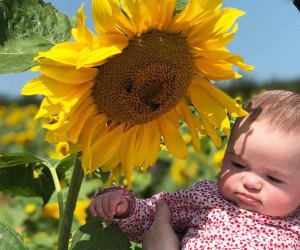 Best July Fairs and Festivals for New Jersey Families
Soak up the sun, sandcastles, and even sunflowers at family-friendly summer fairs and festivals throughout New Jersey in July. Independence Day kicks off a festival-filled month with fireworks and festivities. Plus, plenty of county fairs offer good, old-fashioned fun in July—swing by events in Cumberland, Ocean, Burlington, Morris, Gloucester and Monmouth counties.
Hit the Jersey Shore for fun-in-the-sun festivals, like the Wildwood Crest Sand Sculpting Festival, Anglesea Blues Festival, and Surf and Turf Festival. And admire a sky full of brilliant colors at the QuickCheck Festival of Ballooning and the Warren County Hot Air Balloon Festival.
Mark your calendars with these 30+ July fairs and festivals. And for more July happenings, check out our July GoList and Summer Fun Guide for NJ Kids.
OUR LATEST VIDEOS
July Festivals