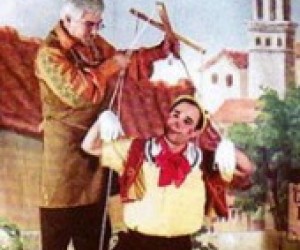 Kid Shows: Theater For Children and Families in New York City Spring 2010
No matter what age they are, kids really have good theater in this town. New York City is uniquely set up to provide top quality children's entertainment, thanks to its host of actors, musicians, puppeteers and storytellers happy to perform for the little ones. Better yet, these productions are created to specifically engage a young child and many of the shows are interactive, usually about an hour in length and generally affordable.
The season is starting to wind down so if you haven't taken your child to a theater performance yet this year – now is a good time to do it – there are plenty of great shows this spring - even some that are brand new.
Below is a pretty comprehensive list of what is playing around town for in the next few months, sorted by borough. You will be able to find this list and all our cool kid culture finds in our Culture Guide.
MANHATTAN:
Manhattan Children's Theatre:
Stanley's Adventure:
Like all the performances at MCT, this musical is based on literature. This time it is the popular Stanley books about the dog who tries really hard to stay out of trouble and his pooch pals. This is the last show of the season, I saw it last week with my 5 year old son and he just loved it. The performance is great and kept him engaged and entertained for the duration of the one hour show.
See our review of the show
. Suitable for all ages.
Running: April 24 – May 30, 2010
52 White Street
Showtimes: Weekends at noon and 2:00 pm
Tickets are $20
John Tartaglia's ImaginOcean:
This is one show I am really excited to bring my son to, it is an underwater ocean adventure about 3 fish friends who find a treasure map and set off – told with fish puppets with black light plus there is music and dancing, too.
Running through the end of the year
New World Stages, 340 West 50th Street
Performances are Wednesday – Sunday with multiple performances to choose from
Tickets are: $39- $69

TADA Youth Theater:
Wide Awake Jake:
The musical story of Jake – the boy who can't fall asleep and many adventures he has while trying. About one hour in length and suited for all ages.
Running: April 16-May 23, 2010
The Magic Pot: Three Tales From China:
The New York debut of a young girl's musical adventure through ancient Chinese Tales that show her the truth about life, honesty, and happiness. One hour in length and suited for all ages.
Running: July 9-August 4, 2010
15 West 28th Street
Showtimes: Wednesdays at 10:00 & 12:00, Fridays at 7:00 pm, weekends at 2:00 and 4:00.
Tickets are: $20 for adults and $8.00 for children


The Tribeca Performing Arts Center
Jigsaw Jones - The Case of the Class Clown:
Someone has been slimed and it is up to Jigsaw to figure out who did it! Plenty of music and mystery to keep the children entertained. Best for kids aged 5 years +
May 15, 2010 at 11:00 and 1:30:
Tickets are $25
199 Chambers Street
Coming this fall to The Tribeca Performing Arts Center
the 2010/2011 Season
Tickets on sale now for $25 each and memberships packages available $140 for ten tickets.
The Lion, The Witch and the Wardrobe
:
This much loved story of Narnia is brought to life in this family friendly musical. Appropriate for children aged 6 years +
October 3, 2010 at 3:00 pm
Harold and the Purple Crayon:
This classic story about the adorable boy and his special crayon will delight your kids as much as it delighted you. Best for ages 4 years +
November 20, 2010 at 1:30
Swimmy, Frederick and Inch by Inch:
Leo Lionni's beautiful creations are performed by the Mermaid Theater of Novia Scotia. Best for ages 3 years +
December 11, 2010 at 1:30 pm
Junie B. Jones:
Everyone's favorite first grade heroine is brought to life through song and dance in this Theaterworks production. Suited for 5 years +
December 12, 2010 at 3PM
Click, Clack, Moo:
An awesome performance with Broadway styled song and dance numbers tell the story of the milk cows that go on strike and teach Farmer Brown a lesson he won't forget. Appropriate for ages 3 years +
February 13, 2011 at 3PM
Runt of the Litter:
Semi-autobiographical, one man play performed by and based on the life of one time Houston Oiler turned actor: Bo Eason. For all ages
February 26, 2011 at 1:30PM
Charlotte's Web:
My favorite book as a child, EB White's timeless story of an unlikely barnyard friendship will delight today's modern child. For ages 5 years +
March 6, 2011 at 3PM

Giggle, Giggle, Quack:
See what happens when Farmer Brown takes a vacation leaving his brother in charge. A musical comedy ensues as sneaky duck re-writes the rules. For children aged 3 years +
March 26, 2011 at 1:30PM
Room on a Broom:
A story told in prose about a good hearted witch and the friends that help save her from the ogre was a favorite of my son's for a long time. Children aged 3 years +
April 16, 2011 at 1:30PM
Ferdinand the Bull:
The classic take of the bull that wouldn't fight is told with narrated ballet and mechanical creatures. Suited for children aged 7 years +
May 21, 2011 at 1:30PM
New Victory Theater:
In addition to the great performances here, The New Victory also holds
family workshops
before shows on select dates (and you don't have to even be seeing the show) for an additional $17.
PaGAGnini:
The music of classic composers (think Mozart and Chopin) twisted into a hysterical comedy of a concert. Performed by a classically trained string quartet from Spain - a feast for your ears and your funny bone! One hour long with no intermission. Suited for ages 6+
Running: May 7 – 23, 2010
229 West 42nd Street
Tickets are $35, $25 and $12.50
The Butterfly Garden
(
Currently sold out - but seats may become available 48 hours before show
): Sensory theater using state of the art technology to illustrate the life cycle of a caterpillar. The garden responds in real time to the two dancers movements. 50 minutes in length. Suited for ages 3 to 8 (Performance takes place at the New 42nd Street Studios)
Running: May 14 – 23, 2010
Tickets are $25
Vital Theater Company
Pinkalicious: The Musical:
The famous musical, based on the book of the same name has been delighting little girls and their families for 3 years. Produced by the Vital Theater Company, the musical based on the picture book of the same name, about a girl who eats pink cupcakes until she turns pink, is a favorite event for a girl's birthday celebration. One hour in length.
Bleecker Street Theatre, 45 Bleecker Street
Showtimes: Saturdays and Sundays at 11am and 1pm
All Tickets $29.50
Isabelle and the Pretty-Ugly Spell:
A musical fairy tale about Isabelle, a fairy godmother who enchants her princess and makes a mistake. Then has just 3 days to set things in order. Lots of fun for the whole family.
Bleecker Street Theatre, 45 Bleecker Street
Running: extended through May 30, 2010
Showtimes: Sundays at 1:00
All Tickets: $25.00

Angelina Ballerina - The Musical:
The beloved book series about the ballet dancing Angelina Mousling, is brought to life with a musical this fall by the Vital Theater Company.
Running: October 2 -November 28th, 2010
McGinn/Cazale Theatre, 2162 Broadway
Showtimes: Saturdays and Sundays at 11am & 1pm
All Tickets $29.50 and up
Literally Alive
Bring classic literature to life on the stage through music, art, puppetry and dance and also provide family art workshops before the show.
Treasure Island:
Based on the book by Robert Louis Stevenson, this play features adventures and swashbuckling pirates.
May – June 27, 2010
Showtimes are most weekends at 11:00
Tickets are $25 - $40
Players Theater, 115 MacDougal Street
The Story Pirates:
Quite possibly the coolest theater troupe in town, there aren't any pirates but there are local, professional actors, who perform plays based on stories written by children. The plays include puppets and musical numbers. Everyone is guaranteed to leave smiling.
Learn
how your child can submit a story.
The Drama Bookshop, 250 West 40th Street
Showtimes: Saturdays at 2:00
Tickets are $15
Create-a-Show:
The pirates have added a new type of show to their roster an interactive improv show. The entire play is based on kids suggestions made during the performance. Plus there is a pre-show workshop for kids 5 and older.
Manhattan Youth Downtown Community Center, 120 Warren Street
Showtimes: Sundays, June 6 and July 11, 2010 at 2:00
Tickets are: $18 for show, $30 for workshop and show

Blue Man Group:
You may have seen it a million times, but it is new to the kiddos. The wildly entertaining, blue-faced trio, combine music, art and comedy in a party like atmosphere that you have to see to believe. Show runs 2 hours and 30 minutes with intermission. Suited for ages 8 and over. Children under 5 not permitted.
Showtimes: Nearly every night at 8:00 pm, weekends 2:00, 5:00 and 8:00 pm. Additional performances during peak times.
Astor Place Theater, 434 Lafayette Street
All tickets are $79
The Drilling Company:
The Frog Singer:
A glow in the dark puppet show performed by The Drilling Company about Lester, a successful high jumping frog who starts to wonder if he should have followed his dreams, instead. For all ages.
236 West 78th Street
Running: Debuts May 15, 2010
Showtimes: Saturday and Sunday at 11:00
Tickets are: $15 for adults and $12 for children under 10


Galli's Fairy Tale Theater:
Not only do they present fairy tales with lots of music and audience interaction they also offer children's workshops after the performances allowing children to try out performing, playing with costumes and even sometimes putting on a short show.
Sister Alyonushka and Brother Ivanushka:
The story of a little boy turned into a hip hopping goat – plus more. All ages.
Saturday and Sundays at 3:00 pm plus a special May 26 weekday show at 10am
The weekends of May 22 and 29, 2010 they are presenting their
International Fairy Tale Festival
Ukuku a Peruvian Folktale
May 22, 2010 at 3:00 pm
May 23, 2010 at 11:00 am
Rapunzel
May 22, 2010 at 5:30 pm
May 29, 2010 at 11:00 am
May 30, 2010 at 3:00 pm
Sister Alyonushka and Brother Ivanushka
May 23, 2010 3:00 pm
Why Dog and Cat are Enemies a folk tale from China
May 29, 2010 at 3:00 pm
May 30, 2010 at 11:00 am
Hansel and Gretel
: A retelling of the ancient story with a twist – Gretel saves the day and discovers an important treasure. For all Ages
Running: June 5-27, 2010
Saturday and Sunday at 3:00 pm
How Raja's Son won Princess Labam
: A fairy tale from India, where the prince must accomplish a great many things in order to be considered for marriage to the princess. All Ages.
July 3-25, 2010
Saturday and Sunday at 3:00 pm
Tickets: Adults $20, children$15
After Show workshop: $20
38 West 38th Street, 3rd floor
LimeCat Family Theater:
The Princess and the Frog Prince:
An all ages, high energy musical performance telling the story of the enchanted frog that is searching for a princess to kiss him and turn him back into a man.
Running through May 30, 2010
Showtimes: Sunday at 12:30
The Actors Temple Theater, 339 W. 47th Street
Tickets are: $20 and $40 for premium seating
BROOKLYN:
If You Give a Pig a Pancake:
Children's favorite books brought to life as short musicals, including: Diary of a Worm, Fluffy the Classroom Guinea Pig, Horace & Morris but Mostly Dolores, How I Became a Pirate, Lilly's Big Day, The Paper Bag Princess and If You Give a Pig a Pancake
May 22, 2010 at 2:00
Kingsborough Performing Art Center on the Campus of Kingsborough Community College (Oriental Boulevard)
Tickets are $12.00
Monster Literature:
Monsters are attacking classic literature –monthly. And it is up to the 12 year old, book loving Benjy Bleeglehorn, to save the works. Each month the Mainspring Collective created a new play in their on going saga. Not sure just yet what piece they are attacking next but we will let you know as soon as we find out. 35 minutes in length and suited for ages 5+.
Brooklyn Lyceum, 227 4th Avenue
Showtimes: June 5 – 13, 2010
Tickets: $5.00
STATEN ISLAND:

Pinocchio:
Everyone favorite story about the boy puppet who comes to life goes on many adventures including saving Gepetto from the whale will be staged with a beautiful score. Plus, children can meet the players after the show.
Sunday, May 16, 2010
Showtime: 5:30 pm
Tickets: $20, $18, $15, $12
St. George Theater, 35 Hyatt Street