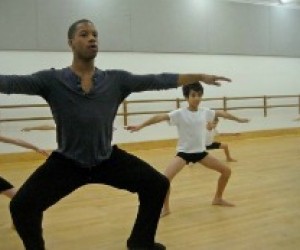 Dance Classes for Boys in NYC: Ballet, Hip-Hop and Beyond
My now eight-year-old son had happy feet in utero, and happy (and apparently tasty) feet as a baby. As soon as he learned there was such a thing, he began asking for dance lessons. It seems he didn't get the memo that, in America at least, dance is not considered a cool activity for boys. (Not that he would have cared—he's very much a waltz to the beat of his own drummer kind of dude.)
In order to counter this attitude, lots of dance studios have launched special boy-centric or boys-only classes in the hope of appealing to all of the Billy Elliots out there. Bonus: Some of these programs are subsidized or even free!
Since my son is particularly interested in ballet, we started him off at Ballet Hispanico on the Upper West Side. The program offers two separate Saturday boys workshops, one for 6-8-year-olds, and another for 9-10-year-olds. Thanks to the Ted Snowdon Foundation, class fees are 50% off regular tuition.
The School of American Ballet's primary division boys classes are completely free, but require an audition. Interested boys ages 6 to 10 are invited to try out in the spring for admission the following September. You can either pay $35 to audition at SAB, or register for one of the free and open community auditions held all over the city, including Harlem, Chinatown, Brooklyn, Queens and the Bronx. April 2012 dates and locations are posted on SAB's website.
Other ballet options for boys include:
Dance Theatre of Harlem's Jete Program for boys ages 7 to 17
Alvin Ailey's Bounding Boys for 4-6 year olds and Athletic Boys Dance for 7-10-year-olds
Joffrey Ballet School with classes for 6-9-years-olds and kids 10 and up
American Ballet Theater for boys ages 5-11
Ballet Academy East, which begins separate boys classes once they reach Level 4
Another, lesser-known option is Ballet Tech, NYC's only public school for dance. From fourth to twelfth grades, Ballet Tech offers professional dance training to boys and girls for free, alongside traditional academics. To apply, students may either participate in a qualifying Beginners Program with introductory classes in more than 700 NYC public schools, or attend an open audition for non-affiliated third graders from all five boroughs.
If ballet isn't your boy's thing, there are plenty of other types of dance on tap. Tribeca's Downtown Dance Factory offers a number of boys-only classes in ballet, jazz and hip-hop. Peridance Capezio Center in the East Village also offers the super-athletic Movement for Boys. And of course hip-hop is probably the one dance that is cool for boys to do, which is why we wrote about our favorite hip-hop kids' classes a few years back.

For more cool kids' programs, check out our Classes Guide.