Free Memberships Await as NYC Rec Centers Reopen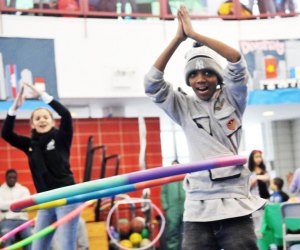 New York City's recreation centers are reopening with big perks for New Yorkers—FREE citywide, one-year memberships will be doled out to all visitors who sign up between Tuesday, September 7 and the end of the year.
The news comes amidst the final week of the season for the FREE public swimming pools housed at city rec centers and marks the first time most of the 36 indoor spaces have reopened since the start of the pandemic in March 2020.
To celebrate the grand reopening, city recreation centers are hosting a weeklong preview with fitness demonstrations, facility tours, and programming sneak peeks. Preview week runs from Tuesday, September 7 through Friday, September 10.
All visitors to recreation centers are required to wear masks at all times, and NYC Parks Department Recreation Center visitors are subject to the same COVID-19 vaccination requirements as those at commercial gyms; that is, all visitors ages 12+ must be vaccinated in order to use the facilities.
One notable exception to the reopening plans: Indoor pools remain shuttered for now, which means there's no timetable for the return of the popular FREE learn-to-swim classes, though the popular free after-school programs kick off programming on Monday, September 20.
Five recreation centers will not reopen right now. Kwame Ture and St. James Recreation Centers in the Bronx, plus Queens' Sorrentino center are being used to support the city's COVID-19 fight as testing or vaccination sites. St. Mary's, in the Bronx, and Brooklyn's Red Hook Recreation Center both sustained considerable damage during Hurricane Ida and are closed until further notice.