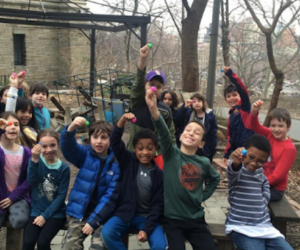 Advancing the Community of Tomorrow, ACT, located on the 11-acre oasis of the Cathedral of Saint John the Divine campus on the Upper West Side of Manhattan, is an education center that provides year-round affordable educational and recreational programs for infants, children, and teens from ages 6 months through 14 years. ACT provides one-to-one adult-toddler classes from age 9 months, an indoor PlayStation in winter for children 6 months to 5 years old, morning and afternoon nursery classes, a full-time preschool, an after-school program for ages 5-12, holiday camps, summer camps, and party services.
In the after-school program, children in K-5th grade can continue their day with a diverse community of new and familiar friends. ACT is an exciting place filled with themes, activities, and events—a place where both fun and learning happen along the way. Visit www.actprograms.org for more information, or arrange a visit or trial class by calling 212-316-7530.
---
ACT Programs at the Cathedral of St. John the DIvine
Reviews
Click Here to Sign Up!