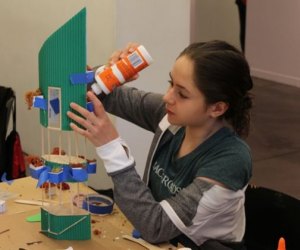 Center for Architecture K-12 Programs
Explore architecture and design year-round at the Center for Architecture in Greenwich Village! During the school year, check out our After-School, Family Day, and Vacation Programs. In the Summer, check out one of our many Summer Programs.
After-School Programs are offered throughout the school year. Each program explores an architectural topic of interest through art activities and design challenges, building students' design skills and understanding over a series of sessions.Family Day workshops take place one Saturday a month at the Center for Architecture. These two-hour programs introduce families to architecture and design through hands-on art and model building activities, gallery tours, and design challenges.
Vacation Programs are offered during mid-winter and spring vacations. These programs give curious kids an opportunity to dive into an architectural topic of interest and test out their own design ideas. Each program explores a different theme through design challenges and building activities.
Summer Programs give students entering grades 3-12 a chance to develop their own architectural designs and models. Summer programs are five days long with each week focusing on a different topic. These programs combine hands-on art and building projects with one-of-a-kind trips to notable buildings, parks, and architectural sites. Activities include drawing, 3-D model making, interior design, city planning, computer design, "green" design projects, and intensive two-week Architectural Design Studios for high school students.
Need-based scholarships are available. For program dates, themes, and registration please visit the website.
---
The Center for Architecture
Reviews
t Click Here to Sign Up!