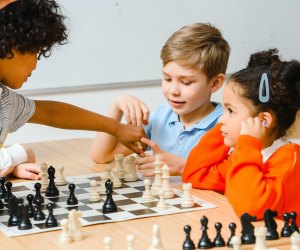 Welcome to Alpha Minds Academy, where students find confidence in learning. Alpha Minds Academy is an educational enrichment program that provides children (PreK 3 through 11th grade) the chance to pursue academic interests in an engaging and creative atmosphere. The program is excited to open its doors for its upcoming school year, offering in-person and online classes.
Programs:
Logic (ages 3-5) and Mathematics (grades K-11) programs help develop reasoning and critical thinking, with an emphasis on problem solving skills:
Logic, Critical Thinking, and Intro to Mathematics for PreK 3, PreK 4, and K (ages 3-5)
Singapore Math program - grades K-5
Pre-Algebra, Algebra I, Geometry - grades 6-9
Algebra II, Geometry, Precalculus - grades 9-11
Test preparation.
Chess program for grades pre-K through 8:
Classes for young beginners (ages 4-6)
Beginner/intermediate/tournament level groups (all ages)
Chess tournaments
International chess curriculum
Expert chess coaches
AlphaMinds Academy is a member of the US Chess Federation.
Coding for grades 2-11:
Scratch (grades 2-5)
JavaScript, HTML, CSS (grades 4-8)
Python (grades 6-11)
ELA (Reading & Essay Writing):
Reading: Phonics, Fluency, and Comprehension (grades PreK-2)
Essay writing (grades 3-8)
A Russian language immersion program is also offered for ages 1-15.
For online classes, AlphaMinds Academy offers a full range of academic enrichment classes, adapted and improved for online learning. AlphaMinds has been teaching online classes to great success with students and parents since March 2020. Classes are taught live, via Zoom, in small-group settings. Private groups/pods and private lessons are available upon request.
After-school, weekend, and summer courses offer an academically stimulating, supportive environment for learning. The enthusiastic instructors, most with advanced degrees in their specialties, are experts in engaging each student's natural curiosity and desire to explore the world. Whether your child is looking for extra help in a subject or advanced instruction beyond what their school can offer, AlphaMinds Academy provides students with the tools and confidence to thrive.
Sign up for the Mommy Poppins Newsletter today!