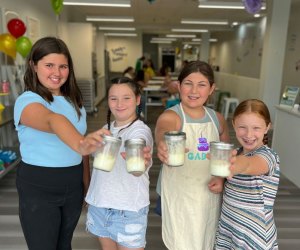 The Flavor Labs is a kitchen created to experiment with food and flavors while having fun. With Bergen County locations in Norwood and Paramus, TFL offers cooking classes, camp sessions, private events and birthday parties, plus BYO adult events.  
Studies have shown that hands-on cooking programs help children become more adventurous eaters. Plus, playing an active role in the kitchen gives children the opportunity to enhance their science and math skills, learn to make good food choices, build self-confidence and develop fine motor control. STEM, food education and sustainability are core to the curriculum at TFL, while nurturing an appreciation for food and the science behind it. 
The Flavor Labs offers a variety of options for families. Starting with little ones, Me and My Grown-up classes introduce children ages 2-5 to the kitchen, giving them access to new foods, tools and equipment in a safe and friendly environment. Children create recipes from start to finish in each session, with plenty to bring home to share with families. For children ages 6-13, weekly semester classes are available after school in the Fall, Winter and Spring. These classes provide the opportunity for children to spend 8 weeks cooking and baking new recipes within a fun theme. For those who don't want to commit to a full semester, TFL offers single drop-in classes where students of any age can join a class and whip up a batch of something yummy, from donuts to dumplings. TFL also offers summer camp and school break camps to help keep children engaged in productive activities while school is out.
For parents looking for a unique birthday party idea, TFL is a full-service party venue, offering hands-on activities, food and (optional) favors for attendees.  Parents can simply show up for their children's party and know that everything is taken care of for them.  Children spend 90 to 120 minutes making a dessert from scratch (for example - 6 cupcakes each)  as well as their own personal pizza.  Children have time to eat and sing Happy Birthday before taking their remaining desserts home to share with their families. For older children, a friendly competition like Chopped or Nailed It is a popular party theme, especially for teenagers. 
TFL also offers adult BYO cooking classes, mixology classes and customized corporate events.  
---
The Flavor Labs - Norwood
---
The Flavor Labs - Paramus
Reviews
Sign up for the Mommy Poppins Newsletter today!