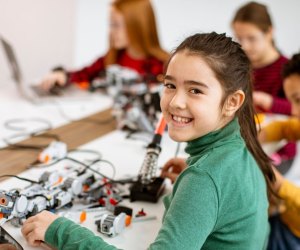 Is your child's current education preparing them for the real world? If not, It time to level up. Let your child lead ahead with this highly-recommended summer camp in Princeton for Coding, Robotics, Game Designing, STEM, SAT Prep, AP, Math, Science, English, French, Chess and Personality Development. The program is designed for holistic development of kids and is methodized and curated by skilled mentors to meet the unique needs of every child. The summer camp promises academic excellence with in-demand tech skills. The camp focuses on bringing out the best in every child through an integrated academics and skill progression program. 
Summer Camp for Kids in Princeton:  BUILD - CODE - PLAY! (For kids Ages 4 - 16 years)
Tech camp: Robotics- code with minecraft / Code & Play with Scratch, Python or Java / STEM for All
Academic Camp: Math made easy / Science / Personality Development through Stage Presentations, Writing & Book Clubs
Upskill Program: Chess / French
Test Prep: The Ultimate SAT Prep / AP
Why Choose Leapcoderz Summer Camp For Kids?
Local, hands-on & passionate.
Flexible Scheduling- full day / half day camps / other options.
Only pay for weeks you attend with no locking
Age-appropriate small groups.
Defined goals and achievement events
Personality development, public speaking & book club
Endless amounts of fun
Leapcoderz STEM learning center offers truly unique courses for kids of all ages and kudos to the instructors, offering best STEM camps for kids in Princeton through in-person and live online interactive sessions.
 
Reviews