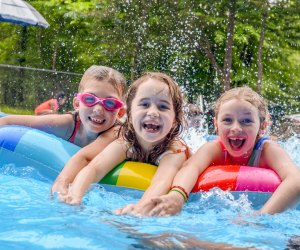 At Deer Mountain, campers ages 3-15 really open up and have a blast as they enjoy the sleep-away camp's range of activities, facilities, and staff. Taught by experts, activities include swimming (instructional/recreational), sports, fine and performing arts, outdoor adventure, nature, STEM, lake, and special events.
Your child will become an unforgettable part of the camp's story. Since the Katz family founded the camp in 1956, they have been committed to one goal: to help every camper enhance their positive qualities and embrace who they are as they become a unique and essential part of the community. Roberta and Carol Katz, the deeply involved 2nd-generation camp directors, personally get to know campers and families from the outset.
Tuition includes transportation, lunch and snacks, towel service, backpack, T-shirt, daily photos, video highlights, and a group picture.
Visit the website to watch the video and see what Deer Mountain is all about
Sign up for the Mommy Poppins Newsletter today!
i