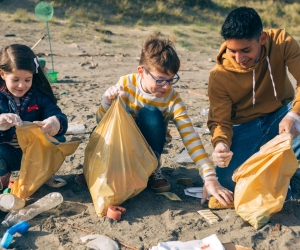 Jones Beach Energy & Nature Center
This environmental education center located in Jones Beach State Park explores energy systems, conservation, and sustainability on the beach.
Visit for tours, lectures, workshops and shoreline walks, or explore kid-friendly interactive exhibits. Inside the Center, children can feel live marine animals, look through a microscope, experience an energy-efficient playhouse, and make waves in a wave tank. Outside, children can walk through the pollinator garden, see whale bones and play musical instruments in the play area, and touch a real, 128-foot-long wind turbine blade. The Center also offers field trips, scout programs, and free educational resources.
The Center is ADA accessible, with exhibits presented in English and Spanish. Select exhibits include Braille and tactile elements. Free audio guides are available in English, Spanish, ASL, Mandarin Chinese, and English-language Audio Description.
Visit the website to learn more: https://www.jonesbeacenc.org.
---
Jones Beach Energy & Nature Center
Reviews