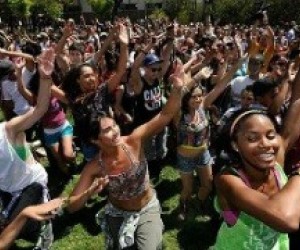 Fun & Free Things to Do with LA Kids this Weekend: National Dance Day, Dragon Boats and Malibu Arts, July 26 - 27
Whatever you do this weekend, DON'T GET OUT OF TOWN! There's another one of those Carmeggedon, Carpocalyse things happening, and they're calling it … the Century Crunch. I know, I know, it doesn't have much gloom and doom sound to it, but it's right at the airport. They're knocking down a bridge, road improvements yadda yadda traffic nightmare. And probably zombies. Just stay home, play in your backyard, or if you have to, venture downtown. (They have toys.)
Think you're safe if you're heading to San Diego for Comic Con? Ha! You and half a billion other people! Do they even have enough oxygen for all those people? No, you'd better stay right here in the beautiful City of Angels. And what a weekend it will be! We have National Dance Day, the circus, and the OC Fair, Dragon Boats and Malibu Arts and Summer Fest at Venice Beach. Kids can build sand castles, run like heroes, cheer for cowfolk, boo the bullies and sing with Cinderella. Best weekend ever!
Or you could always go to New York.
Keep reading for our conveniently located in LA picks for this weekend ....
ALL WEEKEND

Princess and Pirates Sing-a-Long Concert - Culver City
Cinderella, Princess Jasmine, Aurora, and Snow White - all of your favorites lead a fun-filled sing-a-long … panto style! (There are a couple of meanies, too, but don't worry: you can boo them away!)

Comic Con 2014 - San Diego
The annual celebration of all things pop culture takes over the San Diego Convention Center, with surprise celebrity appearances, sneak previews, panels on comic books, movies, television, and much much more.

Planes: Fire and Rescue 3D (PG) with Live El Capitan Show - Hollywood
Mickey and his friends perform a live show to introduce the latest animated adventure starring Dusty Crophopper.

Ringling Bros. and Barnum & Bailey Presents Legends! - Anaheim
Unicorn! Pegasus! Wooly mammoth! Are there any wonders the circus can't provide?

Old Pasadena Film Festival - Pasadena
Screenings this weekend include The Pit and the Pendulum, Lover Come Back, and The 7th Voyage of Sinbad.

Long Beach Dragon Boat Festival - Long Beach
Marine Stadium hosts one of the largest dragon boat competitions in California, with Chinese traditional art demonstrations, Chinese acrobats, traditional dance, hip hop, music, and martial arts performances.

Last Weekends of the Month at the Skirball - West LA
It's all happening at the Skirball this weekend. July's Last Weekend programming includes a Lemonade Stand by the art collaborative Fallen Fruit. The Family Amphitheater Performances feature Triumph of the Egg on Saturday and SteveSongs on Sunday.

43rd Annual Malibu Arts Festival - Malibu
More than 200 artists display their works at this beautiful open air festival. Kids work with artists to create their own masterpieces in a children's workshop.

Summer Fest at Venice Beach - Venice
Families can enjoy two days of family fun at the beach featuring 60 bands live on stage and food from all over the world.

Griffith Park Free Shakespeare Festival 2014 - Griffith Park
The Taming of the Shrew opens this weekend. In addition to the free Shakespeare, audiences can enjoy free performances by Invertigo Dance all weekend, and a free Players in the Park workshop Sunday.

Princess Luau - Santa Monica
The Ice Queen and Ice Princess, Cinderella, The Little Mermaid, and many more take audiences on a Hawaiian Luau journey.

SATURDAY JULY 26

Big!World!Fun! - Hollywood
Grandeza Mexicana Folk Ballet Company takes audiences on a cultural journey south of the border. The preshow activities teach kids about native plants and animals.

Family Sandcastle Building Day - San Pedro
They're wetting down the sand on Cabrillo Beach, so bring your buckets and shovels and build your dream castle.

Americas & Americans Festival - Gloria Estefan - Hollywood
Gloria Estefan breathes new life into classics from the Great American Songbook, at Hollywood Bowl.

Jr Hero Run - Claremont
Runners must search for missing coins in a botanic garden, fighting off villains along the way.

Day of the Cowboy and Cowgirl at the Autry - Griffith Park
The Autry honors the iconic heroes and heroines of the old West with a day of festivities.

National Dance Day Celebration - Downtown
C'mon, Twinkle Toes, show 'em your moves. Everyone can get in on the action at this free celebration of dance. (There's even a Baby Loves Disco splashing fountain dance party.)

National Dance Day - Pasadena
Kidspace Children's Museum celebrates National Dance Day kid-style, with performances, a dance party, and a chance to learn some new moves.

AMC Theatres Sensory Friendly Films - Multiple Locations
Participating AMC Theatres offer families affected by autism a chance to enjoy a screening of Planes: Fire and Rescue in a safe and accepting environment.

Tongva Park: Native American Story-telling & Craft Workshops Santa Monica
Santa Monica's Tongva Park welcomes families for story-telling and hands-on workshops in soapstone and wood carving, and the ancient art of using plants to create toys and games.

Sherman Oaks Galleria Kids Club - Sherman Oaks
Twinkle Time puts on a show at the Sherman Oaks Galleria

Storytime & Book Signing with Drew Daywalt - West LA
Drew Daywalt author of The Day the Crayons Quit, visits Children's Book World for storytime.

WFamily Summer Family Funday - Topanga
Peppa Pig visits Westfield Topanga.

Lowes Build and Grow - Multiple Locations
The free project at Lowe's this week is a Turbo taco truck.

FIGat7th Kids Club - Downtown
Kids can personalize their own beach bags.

Redondo Beach Summer Music Festival - Redondo Beach
Watch the sunset from Redondo Pier as The Funkomatics play.

After Romeo: Free Concert for Back to School - Culver City
Boy Band After Romeo performs at Westfield Culver City as part of the "Bully Proof" tour.

Downtown Burbank Car Classic - Burbank
Vroom vroom! The Downtown Burbank Car Classic showcases restored and pre-1974 sports cars and bikes, exotics, cruisers and hot rods, from Ferraris, Porsches and Cadillacs to custom Mustangs, Camaros and Harleys. Highlights include appearances by Jay Leno and Drake Bell.

Street Food Cinema - Glendale
The Sandlot screens under the stars at Brand Library Park.

Studio City Movies in the Park - Studio City
The free screening of the Lorax at Studio City Recreation Center comes with free popcorn (while supplies last).

Cinemalibu - Malibu
Peter Parker lives! Spiderman screens at Malibu Bluffs Park, complete with a Spiderman vs. Venom stunt show. Dress up as your favorite superhero (or villain!) and receive a free giveaway.

Movies on the Green - Woodland Hills
Gather your minions and head to Warner Center Park for a free screening of Despicable Me 2.

SUNDAY JULY 27

Hammer Kids: Future Roadside Attractions of LA - Westwood
Kids design new landmarks for LA at the Hammer Museum.

Gwendolyn & The Good Time Gang Kids Koncert at the Will Geer Theatricum Botanicum - Topanga
Gwendolyn and her gang are back for some serious kid rock n' roll at the Theatricum Botanicum.

Summer Family Fun Series - Mid-Wilshire
The Sunday fun at the Farmers Market includes a farm puppet craft, face painting, and a performance by Scott Land Marionettes.

Kids Artfest - Newport Beach
Fashion Island joins forces with Pageant of the Masters and Festival of the Arts for a creative playground with free art activities for children to learn and explore.

Family Sunday/ Kids Run the Bases: Angels - Anaheim
Angels take on the Tigers and kids run the bases at Angel Stadium.

Zimmer Sunday Family Programs Mid-Wilshire
Drum drum drum drum drum drum drum, dum ditty dum ditty dum dum dum. Join the Free to Be Me Drum Circle at the Zimmer Children's Museum and let the rhythms move you!

LevittLA Summer Concert Series - Children's Concerts in MacArthur Park - Downtown
Kiddle Karoo, a silly monster band of costumed characters, monster puppets, and lead Kiddle Karoo combine rock, pop and hip-hop with comedy, dancing and a touch of magic

And it wouldn't be summer without the outdoor concerts:

Summer Concerts in the Park - El Segundo
You got lucky: Tom Petty tribute Petty Theft plays Library Park.

Manhattan Beach Summer Concerts in the Park - Manhattan Beach
The King may have left the building, but Scot Bruce does his best Elvis Tribute in Polliwog Park Amphitheater.

South Pasadena Summer Concerts - South Pasadena
Pacific Rose brings a little bit of Country to Garfield Park.

2014 Music in the Park - Laguna Beach
Bluebird Park has the soulful sounds of Stone Soul.

Concerts on the Green - Woodland Hills
One of these nights Eagles tribute band The Long Run Experience plays Warner Center Park.

Sierra Madre Concerts in the Park - Sierra Madre
I been workin' like a dog: Beatles tribute band Hard Day's Night plays Memorial Park Bandshell.

Sunday Movie Nights - Beverly Hills
The Beatlemania continues as Beverly Canons Garden holds a free screening of I Wanna Hold Your Hand.

And yes, there are many more activities listed on our daily events calendar. Just a crazy notion, but why not check it out! Whatever you choose to do this weekend, we hope you have marvelous time.