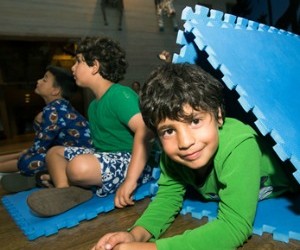 Fun & Free Activities with LA Kids this Weekend: Golden Dragon, RockSTAR and Schoolhouse Rock: Feb 1 - 2
Well hello, Martha Poppins! We are seriously impressed by all the WeeWorking you guys have been doing. Up-cycled button rings, 60-second smoothies, no-mess fingerpainting... true, we put the instructions up, but you guys have really run with them!

All that creativity deserves a reward, don't you think? Let's have a giveaway! Alls ya gotta do is share a pic of your WeeWork handiwork on social media (you know you're gonna brag about it anyway!), then hashtag us and post a link. (All the deets are here). Every week now through April we're choosing one Mommy Poppins artiste to win a family 4-pack of tickets to Baby Loves Disco!
Want more inspiration? As per usual, LA has plenty to spare. You can spend a night with the creatures of Noah's Ark, watch a giant Golden Dragon weave through the streets of Chinatown, groove with junior rockstars in Hollywood, or sing along with the princesses of Frozen. Favorite shows will entertain you with evolution, adjectives, and Greek mythology. You can build a car, party among dolls, search for faeries, or watch speeding supercross. You can celebrate Lunar New Year, African American History Month, and even Groundhog Day. This weekend, LA has got it going on.

Keep reading for some of our favorite picks for the weekend...
ALL WEEKEND

Noah's Ark Family Sleepover - West LA
Imagine the dreams you'll have sleeping among the animals of Noah's Ark at the Skirball!

Schoolhouse Rock - Santa Monica
Think of everything you know about conjunctions, adverbs, interjections, and nouns. Did any of that NOT come from Schoolhouse Rock? Give your kids the same educational opportunity with a new musical stage production at the Morgan-Wixson Theater based on the Emmy-winning classic.

Frozen Sing-a-long (PG) - Hollywood
You've been singing along in the car, in the shower, and to anyone who will listen. Time to "Let It Go" in public. The Frozen Sing-a-long starts Friday at El Capitan.

Cirque du Soleil - TOTEM - Santa Monica
Have we mentioned how much we love the latest Cirque du Soleil production at Santa Monica Pier? There are red-eyed tree frogs! And hoop dancers! And foot jugglers and bowl balancers... on unicycles!

Jason and the Argonauts - Beverly Hills
This is your last weekend to catch Jason and the Argonauts at the new Wallis Annenberg Center. (We love this one too!)

Robin Hood and Beauty and the Beast - Santa Monica
Kid-friendly versions of the classic tales play in rotation at the Promenade Playhouse.

SATURDAY FEBRUARY 1

Golden Dragon Parade - Chinatown
A giant dragon makes his way through Chinatown. The crowd goes wild. The Chinese New Year Festival goes on all weekend, with cultural performances and workshops, gourmet food trucks, storytelling, martial arts demonstrations, and plenty of other family fun.

Audition for Mark Twain's "Spirit of America" - Carson
Does your girl have what it takes to be Laura Ingalls Wilder? The International Printing Museum is holding auditions for a talented kid to portray "Half Pint"in its production of Mark Twain's Spirit of America.

RockSTAR Winter RockFest - Hollywood
More than 130 RockSTAR kid bands take over the Avalon Hollywood. Rock on!

Chinese New Year Celebration - Pasadena
Kidspace Children's Museum celebrates the Year of the Horse with traditional Chinese art activities, music, and stories.

Saturday Morning Concerts at Books and Cookies - Santa Monica
Get ready to Move and Play with Kristen Cook at Books and Cookies.

Teacher Davis Music Fun - West LA
Former music therapist turned educator Teacher Davis comes to Children's Book World for Saturday morning fun.

Silk Road Story Time - Pasadena
Settle in for some tales about dragons at the Pacific Asia Museum.

TSFY: Vivaldi's Four Seasons - Downtown
Want your SoCal kids to experience all four seasons? Send 'em to Walt Disney Concert Hall to hear Vivaldi's symphonic version.

Chinese New Year Celebration - Commerce
The Citadel celebrates Chinese New Year with a traditional Lion Dance, costumed stilt walkers, and ribbon dancers.

Monster Energy AMA Supercross - Anaheim
Indoor motocross comes to Angel Stadium in Anaheim.

SUNDAY FEBRUARY 2

A Faery Hunt - Brentwood
Kids can help find the King of the Faeries in Crestwood Hills Park.

Free Day at the Bowers - Santa Ana
The Bowers Museum celebrates Lunar New Year, with a Lion Dance, Lightning Tai Chi, a Vietnamese-Chinese Magician and Acrobat, and Vietnamese traditional dance.

Free Day at La Habra Children's Museum - La Habra
Master storytellers continue the tradition of passing along African American history at the Children's Museum at La Habra.

Target Sundays at CAAM: Celebrating Black History Month Exposition Park
The California African American Museum kicks off the celebration of Black History month, looking at achievements in art, history, and culture with a live performance program.

Andell Family Sundays - Memory and Storytelling from Africa - Mid-Wilshire
This month at LACMA kids can see rarely viewed art from Africa and make memory boards.

LMU Concerts of Music for Children - Westchester
Loyola Marymount University offers two performances of its 15th annual free Concert of Music for Children.

Stories in the Afternoon - Pasadena
Kids can explore the possibilities of characters from different paintings interacting in this family program at the Norton Simon Museum.

Zimmer Sunday Family Programs - Mid-Wilshire
Check for your shadow: it's Groundhog Day at the Zimmer Children's Museum.

Just Mom and Me - The Grove
Moms and Daughters can enjoy a special evening together at the American Girl Store at the Grove.

As always, there are more activities listed on our daily events calendar, and if you don't already receive this post as a weekly email, you should totally subscribe. Whatever you choose to do this weekend, we hope you have a fabulous time!