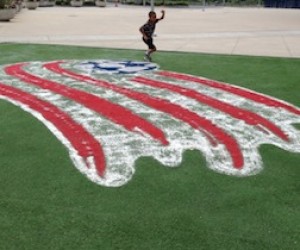 15 Things to Do with Kids in Foxboro This Summer: Many Free, All Fun
Whether you spell it Foxboro or the official "Foxborough," it's an equally fun place to spend the day with kids this summer. There's something going on for every age and every interest, like celebrating New England football at The Hall at Patriot Place, storytime at the cinema, exploring the Nature Trail and Cranberry Bog, live music, hiking, biking, or indoor adventures at 5 Wits. There are lots of interesting things to do, and many of the activities are free!
1. Make and take a craft or learn something new about the outdoorsy life at the Bass Pro Shop Family Summer Camp Workshops (12-5pm Tuesday, Thursday, Saturday and Sunday through July 14). FREE
2. Visit the last remaining active cranberry bog in Foxborough and look for wildlife like the Great Blue Heron, swans, mallards, wood ducks, Canada geese, deer, foxes, raccoons, and turtles in the 32-acre Nature Trail and Cranberry Bog (trail is mulched and we saw someone with a stroller on the trail). FREE
3. Practice like the soccer pros at a Revolution Soccer Clinic (Fridays, July 12 and August 9). FREE
4. Listen to the Sounds of Summer and get your groove on with live music in the plaza at Patriot Place. FREE
5. Go mountain biking and hiking in the F. Gilbert Hills State Forest, A.K.A. Foxboro, Wrentham, or Franklin State Forest. Be sure to look for the interesting stone structures. FREE
6. Experience a unique indoor adventure at 5 Wits.
7. Meet a favorite character like Elmo or Cat in the Hat, experience story time on the big screen, and watch a short movie during Storytime at Showcase Cinema de Lux (Tuesdays at 11am through August). FREE
8. Try a free sample and get some grocery shopping done at Trader Joe's (South Marketplace).
9. Walk in the shoes of football greats and test your own skills at The Hall at Patriot Place.
10. Watch the live fish feeding in the 34,000 gallon aquarium at Bass Pro Shops (every Tuesday and Thursday at 6:30pm and every Saturday at 1:30pm, schedule changes during holiday weeks). FREE
11. Jump up and down in Bounce Houses at Patriot Place (North Marketplace, Tuesdays and Thursdays 11-2pm through August). There is more bouncing before the free outdoor movies on July 24 and August 14. FREE
12. Join the Junior Revs and see Slyde the mascot's antics at a Revolution game.
13. Watch the Patriots practice, then play in the Fan Zone at Gillette Stadium (starting July 26). FREE
14. Sample homemade ice cream at Bass Pro Shops (Saturdays 5-6pm).
15. Pack a lunch and take it to the Cocasset River Recreation Area (68 Mill Street), where you can hike, play on the playground, and picnic. FREE (The town pool is also located in the recreation area, and day passes can be purchased.)
---