Online Robotics Camp
Young Gates - Kids Online Personalized Classes

Artificial Intelligence with Scratch Online Camp
Young Gates - Kids Online Personalized Classes

Spark Math: Free Trial Class
Virtual
Sign up for our free newsletters.
Moving the Family to Fairfield County, Connecticut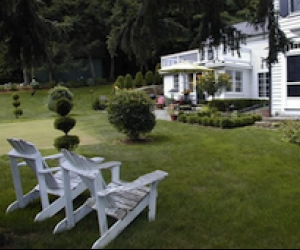 1/21/12
- By
Katie McKnight
So…you're thinking of moving to the New York City suburbs and you keep hearing about Fairfield County, CT. Great! We look forward to welcoming you here. But which town, you ask, would best suit your lifestyle?
There are a lot of factors to consider, especially if you desire a town that is easily commutable to NYC. Eight years ago my husband and I debated these issues for months. After many glasses of wine, several arguments, and some hand wringing, we packed up our things and moved from Boston to Fairfield County with our then 1 year old. While we were apprehensive about moving to such an affluent county, we have been tremendously happy with the many wonderful people we've met, the ease with which we can get into Manhattan, and the incredible (free!) education our children are getting.
Read more to find some insights on a few popular Fairfield County towns:
Greenwich – I love Greenwich for its close proximity to New York, its amazing parks and beaches, and lively downtown. Its chief drawback is its astronomical home prices – amongst the highest in the country – and keep in mind, if you're looking for a small town feel, Greenwich, with it's population of nearly 62,000 is a small city and not a town.
Stamford – although a city, Stamford also offers beautiful, suburban neighborhoods, particularly in the North Stamford area. It offers great commuting options, as it has a large train station and Rte 95 runs right along it. Stamford also offers relative affordability. Its public school system is not as strong as those in nearby Darien, New Canaan, and Greenwich, though it boasts several good private schools.
Darien – Darien is a popular suburb with great public schools and lovely, family friendly neighborhoods. Also right off of Rte 95, it offers easy driving and rail commutes. On the negative side, its downtown is centered around busy Rte 1, and lacks the charm of neighboring towns' downtown areas.
New Canaan – Slightly off the beaten path is New Canaan, which boasts an incredibly charming Elm Street, a host of good restaurants and a phenomenal school system. This lovely town also offers amazing town facilities (pool, playground, parks) and picturesque country roads. The downside? Rte 95 is not as accessible as in other towns, so if you're commuting by car, it may not be as convenient as other options. It does have a train station, so commuting by train is very manageable.
Norwalk – If you're looking for a bigger town/city, check out Norwalk. It has many varied neighborhoods, including toney waterfront Rowayton and the hip SoNo section. The school systems are not as strong, but housing prices are more reasonable.
Westport – Just north of Norwalk is Westport, CT which offers its residents a multitude of perks. The downtown is a great mixture of charming independent stores (Dovecote, Lucy's) as well as convenient national chains (Gap, JCrew). Conveniently located near the Merritt Parkway, Rte 95 and with a train station, the town works for commuters in spite of its more northern location.
My takeaway? If you're looking for something with a small town feel, try New Canaan or Darien. I prefer the layout of the residential neighborhoods in Darien, and the downtown area of New Canaan. Both have excellent schools.
If you're looking for something bigger, I like Norwalk and Greenwich. Norwalk offers a greater variety of neighborhoods, and Greenwich is closer to Manhattan.
For statistics such as school rankings, median home price, crime rates and population, you may want to review Connecticut Magazine's annual ratings.
Once you've reviewed the statistics, you should also check the Metro-North train schedule (the New Haven line) to see what a commute into the city would look like (should you be commuting into Manhattan).
Whichever town you choose, welcome! We hope you enjoy your new home in Fairfield County.