5 Reasons Why Larz Anderson Park Is Awesome for Kids in Winter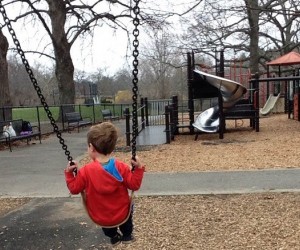 There are a lot of public parks in Greater Boston that simply are not as entertaining and accessible for kids when the cold, snowy weather blows in. Larz Anderson Park in Brookline bucks that notion with sledding, ice skating, and outdoor adventures, perhaps being more fun in the winter than in warmer times.
Here are five great reasons for kids to check out Larz Anderson Park in the winter months:
1. The playground stays hopping. Although most other playgrounds are practically deserted in the colder months, it's not unusual to swing by Larz Anderson Park in the winter and find the playground on the southwestern side of the property teeming with children. Just watch out for those slippery metal surfaces on the play structures.
2. Sledding abounds for daredevils and more cautious kids alike. The top of the main hill at Larz Anderson Park offers tremendous views of Boston's skyline and beyond. A slope that high means some serious speed for adventurous sledders. Younger children who prefer their sledding dips and bumps a little softer can sled along the Goddard Avenue side of hill near the playground parking lot, where the distances are shorter and not so steep. Check out some more super sledding spots, here.
3. Winter brings frozen water views. The scenic pond in the park defines the idea of a winter wonderland once the snow falls, particularly along the short bridges that span the small body of water. It's long enough around the pond for kids to get a cool, crisp breath of fresh air, and short enough to keep attention spans happy. Ice skating is not allowed on the pond, however.
4. Skaters rejoice in the outdoor rink. Public skating is open through early March at the Kirrane Ice Skating Rink at the top of the hill. Check the town's schedule for further details and additional information about lessons, skate sharpening, and private rink rentals. Families may want to steer clear of adult pick-up hockey on Sunday mornings and Monday and Wednesday nights. The rink charges fees for various activities, with Brookline residents getting cheaper rates.
5. Youths can keep busy roughing it. The park has plenty of expanses for teens who are into cross-country skiing, snowshoeing, or simply trudging through the snowy terrain. It's a good workout to travel around the park in the summer, and keeping up in knee-deep snow takes an extra amount of energy.
Directions: Larz Anderson Park is about one mile south of Route 9 as the road crosses near the Brookline Reservoir, but the park is nestled among a bunch of residential neighborhoods. Unless parents know where they're heading already, it's best to pop the park's name into a map app or GPS.
Admission: Generally free, although the skating rink charges fees.
---