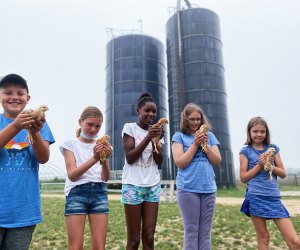 Trustees summer camps offer unparalleled outdoor camp experiences at nine world-class properties, including Crane Estate, World's End, deCordova Sculpture Park and Museum, and five working farms, including the new Chestnut Hill Farm Camp in Southborough. Whether your campers like farms or fields, woods or waves, art-making or culinary creations, The Trustees summer camps have an amazing—and safe—summer lined up for them. Farm, coast, art, and forest adventures cultivate a sense of wonder and develop connections with the natural world and new friends. Camps run June through August, with full-day or half-day options for ages 2–17. Southborough, Ipswich, Hingham, Lincoln, Dover, Medfield, and Edgartown, Massachusetts.
Trustees Summer Camps
North Shore:
Appleton Farm, Ipswich (ages 4-17)
Crane Estate, Ipswich (ages 4-15)
Metrowest:
Chestnut Hill Farm, Southborough (ages 5-10)
deCordova Sculpture Park and Museum, Lincoln (ages 5-16)
Powisset Farm, Dover (ages 6-12)
Rocky Woods, Medfield (ages 5-9)
South Shore:
World's End, Hingham (ages 5-17)
Weir River Farm, Hingham (ages 5-10)
Martha's Vineyard:
Farm Camp at The FARM Institute, Edgartown (ages 2-17)
Click Here to Sign Up!
i