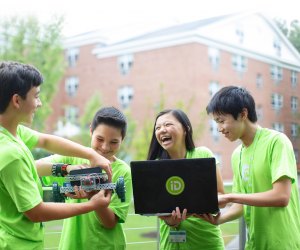 This summer, your child can explore a prestigious campus as he/she makes friends, masters new tech skills, and joins a community of more than 300,000 alumni. At iD Tech camps, students ages 7-18 learn to code, design video games, produce videos, mod Minecraft, create with Roblox, engineer robots, model and print 3-D characters, work with AI and machine learning, build laptops, learn about cybersecurity, and more!
iD Tech camps are held at 150+ prestigious locations nationwide, including Fairfield, SCSU, Trinity College, Wesleyan, Stanford, Princeton, and others.
Programs include iD Tech Camps (weeklong, co-ed, ages 7-17), Alexa Café (weeklong, all-girls, ages 10-15), and iD Tech Academies (2 weeks, teen-only, ages 13-18).
t Click Here to Sign Up!