Little Dreamers Kingdom Gives Toddlers a Bright Play Space in Queens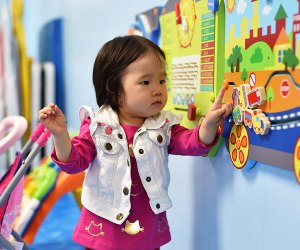 With more and more indoor play areas for kids opening in Queens, it can be hard for new spaces to stand out in the crowd. But Little Neck's Little Dreamers Kingdom is doing just that by exclusively focusing on toddlers and preschoolers. With a smaller space and tot-sized playthings, caregivers can keep an eye on their little ones without hovering. It also offers a variety of fun toddler class offerings and birthday parties.
Read on to find out everything you need to know about the space, including hours and recommended ages.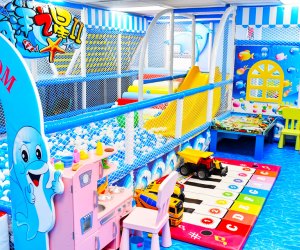 This bright and fun play space has a little something for everyone. Photo courtesy of Little Dreamers
Sisters Donna and Alice Fu took over ownership of Little Dreamers Kingdom in September 2017 and have been busy making it into a toddler-friendly play zone. They've filled the cozy space with toys and installations that younger kids will love, and offer classes like Arts & Crafts and STEM for children aged 0–5.
My 2 year old and I drove out to Little Neck on a Tuesday afternoon and easily found metered parking right out front. The entrance is up a flight of stairs and down a hallway (a note for those with mobility issues and caregivers with strollers: Little Dreamers is on the second floor and there is no elevator). We checked in with Alice at the desk, and I'd barely wrangled my toddler's coat and shoes off before he'd made a beeline for the collection of big construction vehicles. I hung up our coats and stowed our shoes in the cubbies along the wall and took in the space.
RELATED: Get Out and Drop In! Best Queens Play Spaces and Gyms for Kids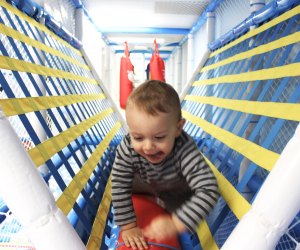 Even little ones can climb high in the safe climbing structure.
One side of the play space is filled with a brightly colored climbing structure with a few obstacles for kids to navigate, two yellow slides, and a giant ball pit filled with blue and white plastic balls. The left half includes a small enclosed and heavily-padded trampoline area, as well as a train table, piano mat, a stocked play kitchen, and various toys. There is also a separate room used for classes and parties, a changing table area, and restroom.
I took a seat and watched my little guy as he first made sure to touch every car and piece of play food in the kitchen, take a turn on the trampoline, make his way up and through the climbing structure, and bury himself in the ball pit. The rectangular, open space, meant that I could easily keep an eye on him wherever he played from my seat, and because the other visitors in the space were similar in age, I didn't worry about him getting run over by bigger kids. At age 2, he could navigate the whole space on his own, so I felt comfortable enough to log onto the free Wi-Fi to check my email. I didn't sit for too long, because soon my little guy was beckoning me to race him down the slides and through the ball pit, which I have to admit, was way more fun than scrolling through Instagram.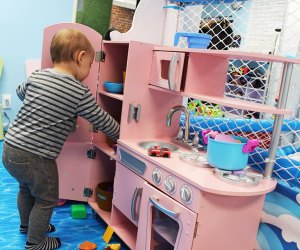 Cook, clean, mix, and stir in the ever engaging toy kitchen.
You can tell that one of the owners, Donna, has a toddler herself, because Little Dreamers is perfectly designed for younger kids. Everywhere I looked I saw another little detail that kids (and caregivers) will appreciate, from the swings hidden under the stairs of the climbing structure to the sensory wall. When it's time for a break, they have water, juice, milk, and a few snacks available for purchase.
Little Dreamers offers customizable party packages ranging from $400–$600. Parties are private events which give you the use of the entire play area, as well as the large adjacent party room. You can check out their list of packages, as well as current class offerings, on the website.
Things To Know Before You Go
Socks are required (and available for purchase for $3).
Public transportation: there is a Q12 bus stop a block away on Northern, and the Little Neck LIRR station is a half mile up Glenwood Street.
There is 1 hour metered street parking available on Northern Boulevard.
The recommended age is under 5, but kids up to 6 years old are allowed.
Little Dreamers Kingdom is open Tuesday–Friday, 10am–6pm, Saturday 10am–3pm and 3:30pm–6pm, and Sunday 10am–6pm. Open play hours for weekends will vary because of private events and will be listed on the website. The entrance fee is $10 for one hour, $15 for two hours, or all day for $20. Babies under 8 months are free when they come with an older sibling. It is located at 254-18 Northern Blvd, Suite 5, in the Little Neck section of Queens.
Photos courtesy of the author unless otherwise noted