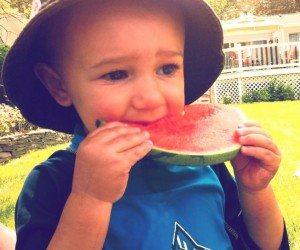 Long Island Kids' Activities August 16-17: Watermelon Festival, Polish Festival, Alice's Tea Party, Live Theater & More
All Weekend
Watermelon Festival – Mattituck. Harbes Farm Family Farm, located on Sound Avenue in Mattituck, is holding a watermelon festival where kids can enjoy fresh watermelon, live music, local vendors, children's activities, singing and pony rides. There will also be a watermelon eating contest. The event will run from 10am to 6pm. Cost: Free admission.
OUR LATEST VIDEOS
Polish Festival – Riverhead. Pulaski and Lincoln Streets in Polish Town, Riverhead, will be filled with over 250 vendors, crafters and exhibits. There will also be dance performances, a corn-husking contest and carnival rides. The festival opens on Saturday and Sunday at 10am and closes at 6pm. Cost: Free.
TomatoFest - Riverhead. All things tomato - make your own salsa, basil ice cream, canning, growing, tomator growing contest, etc. Cost: $3/person, children under age 6 free.
Italian Festival - New Hyde Park. Cellini Lodge 2206 will host a weekend-long festival featuring games, rides, food and more. Free admission.
Holy Family Parish Festival - Hicksville. A weekend-long carnival featuring rides, games, food and more. Cost: Free admission.
St. Ceyril Parish Festival - Deer Park. A weekend-long feast featuring food, games, rides and more.
Saturday, August 16
Alice's Royal Tea Party - Patchogue. Alice and friends will visit the St. Joseph's College campus for a morning of interactive performances, cupcake decorating and a meet-and-greet. Ages: 3-9. Cost: $7/ticket.
Yoga at the Farm - Peconic. Join a yoga teacher in the fields of Sang Lee Farms for yoga followed by a fresh organic veggie juice. Children and adults welcome. Bring a mat or towel. Cost: $15/person.
How I Became a Pirate - Oakdale. This book comes to life on stage in a theatrical performance. Show dates through Aug. 23. Cost: $12/ticket.
Eco Junior Program - Middle Island. Cathedral Pines County Park. Kids will explore ecosystems and learn about nature. Cost: Free, advance registration required.
Craft for Kids - New Hyde Park. At Lakeshore Learning Store, kids can do a free craft. Cost: Free.
Peter Pan: The Musical - Smithtown. This live musical theater performance is running through mid-August. Cost: $15-$30/ticket.
Pinnochio - Port Jefferson. Live performance of Pinnochio at Theatre Three. Cost: $10/ticket.
Train a Seal, Kiss a Sea Lion at the Long Island Aquarium - Riverhead. Bring the kids to the Long Island Aquarium in Riverhead on Saturday for a fun-filled day of behind-the-scenes action. During the event, which runs from 10:15am to 2:15pm, kids will be able to get up close and personal with some of the creatures that call the aquarium home. Cost: $155 per person.
Science Saturday at the Long Island Science Center - Riverhead. Kids can learn and play at the Long Island Science Center with over 30 hands-on exhibits. The center is open from 11am to 4pm. Cost: $5 per person.
Sunday, August 17
The Little Mermaid JR. - Garden City. Live performance on Saturday and Sunday at the Long Island Children's Museum. Cost: Tickets $12/each. Must be purchased in advance.
Junior Marine Biologist - Babylon. Learn about our marine environment. Ages 3-5. Space is limited. Cost: $25.
Ice Cream Party with Jake - Bellmore. Includes open play at Le Play Cafe, Jake character visit, tattoos, parachute play and make your own ice cream sundaes. Registration required. Cost: $15/child, $10 siblings.
The Wizard of Oz - Huntington. Kids under age 12 can enjoy a free screening of The Wizard of Oz at the Cinema Arts Centre in honor of the film's 75th anniversary. Cost: Free
LEGO Club at CMEE - Bridgehampton. Children's Museum of the East End, Bridgehampton, 10am. Children can construct works of art using the thousands of Legos at the Museum. Cost: Free with admission.
Messy Afternoons at LICM - Garden City. Long Island Children's Museum, Garden City, 3:30pm-5pm. Work on a fun project at LICM. Cost: Free with admission. (All weekend)
Mommy/Daddy Me Anti-Gravity Yoga - Bellmore. Have your little one explore the Anti-Gravity hammocks while building basic motor skills. All kids AGY classes are structured to introduce basic life skills and build confidence in a light-hearted way while having fun. Cost: $20.
Family Sundays at the Nassau County Museum of Art - Roslyn. Each Sunday, Nassau County Museum of Art offers a 1pm docent-led family walk-through of the exhibition and supervised art activities for the whole family beginning at 1:30pm. Special family-friendly gallery guides of the main exhibition are available in the galleries.
Photo Courtesy of Long Island Science Center