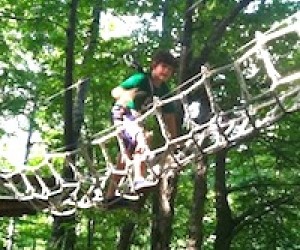 Day Trip to Catamount Aerial Adventure Park and Rockwell Museum in Great Barrington, MA
So, because Connecticut hasn't been cold enough for our liking this winter (?!?@?!?@?!?), my husband and I thought we'd head to the balmy Canadian border for our kids' February school break. Despite the chilly temperatures, we had a great time skiing in northern Vermont. The highlight of our trip? Undoubtedly the full family snowboarding lesson we took with our ever-patient instructor Ian. In addition to being a snowboard instructor in the winter, Ian helps run a summer adventure park in the summertime. His stories of zip lining above the trees for more than 500 yards at a time got us thinking…why not plan a day trip to a nearby aerial adventure park to try this Spring?
I was happy to find that there are several places within and near CT where zip lining is offered. For our family adventure, we will be heading about 90 miles away to Hillsdale, NY's Catamount Aerial Adventure Park.
Catamount offers skiing in the winter, but each year in May, they open their 10-acre "aerial forest challenge park" at the base of the ski mountain. The wooded area has 12 different courses involving rope, zip lines, cables and woods. Participants, who must be over 7, wear harnesses for safety and can choose courses based on their degree of difficulty. Much like ski trails, the courses are color coded (green, blue, black, double black). The tickets are $51/adult, $44/youth (ages 10-11) and $37/child (7-9). Children under 7 are not permitted, and younger participants may be limited as to which courses they can try. I couldn't find any online promotional discounts for the Catamount Aerial Adventure Park right now, but remember to search online for them prior to buying tickets.
The course doesn't open until May, and we are planning on going in early June, by which point I hope that the current 3 feet of snow will have melted. We will leave around 7:30 in order to arrive at the park at 9 (when it opens). You can reserve your space prior by calling. Food is available to purchase on site, but at lunchtime we will head to nearby Great Barrington, MA. Great Barrington, a charming Berkshire county town, is home to, among other things, my husband's all time favorite doughnut shop, Home Sweet Home Doughnut Shoppe. Happily, there are lots of fantastic restaurants in Great Barrington, so we won't ONLY eat doughnuts. Martin's restaurant, a breakfast-all-day-kinda place, is where we will plan on having lunch.
After lunch we will either return to the park for some more activity (the park closes at 5) or, if kids are tired, we will visit the nearby Norman Rockwell Museum, which is a really accessible and easy museum to visit with kids. Admittedly, my husband does not have a great deal of patience for this museum (or really any art museum). But that's where the extra doughnuts come in handy. The extensive museum grounds are gorgeous, and just the place to leave a disgruntled husband and his bag of doughnuts.
A little activity, a little culture...not a bad way to spend an afternoon!