Jump Off! Goes Beyond Trampoline Park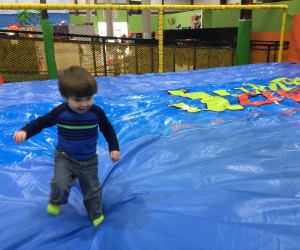 Without a doubt, trampoline parks are a blast. But the wide open trampoline grid and chaotic atmosphere isn't always ideal for parents of little ones.
Alex and Roshan Patel, owners of Jump Off! Indoor Trampoline and Fun Zone in Stratford, came up with a solution.
The 28,000-square-foot building just off Lordship Boulevard in Stratford -- which opened in June 2016 -- includes the "Play Zone." It's a large, enclosed play and climbing area designed for the fun and safety of kids under 48".
The three-story enclosed climber includes roller and tube slides and a ball pit. The mat area keeps younger kids busy with friends their own size in the bounce house, on swings and a super cool "water bed." Parents and child minders have their own cushy stools where they can perch to take photos or chill.
The color and design of the space is beach-themed-- a wonderful touch, especially for parents dying for summer to return.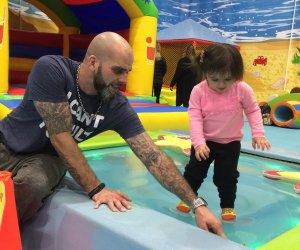 Ed Thorness and daughter Olivia chase faux fish in the sensory "water bed" at Jump Off! in Stratford.
The Patels chose the Stratford location for its quick-off I-95 access and flexible, open space. Jump Off!, which also has unbeatable birthday party packages, is in short driving distance of Stratford, Bridgeport, Fairfield, Milford, Trumbull, Shelton, and Monroe.
"We found this location after searching all over Connecticut," Alex Patel says. "It was the best fit for what we were looking to build."
In addition to the trampoline park and climbing area, Jump Off! has a "Game Zone" area, with 30 arcade games, photo booth, and an "Jump Off Cafe", serving food and drinks. There is plenty of space for parents to eat and relax while the kids play. All play and jump areas are monitored by Jump Off! staff, easily spotted in their bright yellow shirts.
Another perk for parents with toddlers 3 and under: reduced rate for a jump/play pass. And for parents of kids with special needs, the owners offer Sensory Hour on Saturday morning at 9 a.m. with reduced lighting and all music and machines turned off.
Friday Night is Teen Night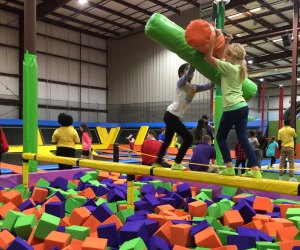 Girls go on the attack on the Battle Beam, over the Foam Pit at Jump Off!
Every Friday from 8 to 10 p.m., parents can sign-in their older kids. One price includes a slice of pizza, a drink, black-lit jumping and DJ music. Middle schoolers and teens can take full advantage of the trampoline grid, extreme dodge ball court, Battle Beam, freestyle court, slack line over the foam pit, and basketball dunking. Parents can stay or drop-off.
"We wanted to create a place for all kids to enjoy and to go to anytime of the year -- something other than just movie theaters or the bowling alley," Patel said.
For a complete list of hours, birthday party information and special event times, visit http://jumpoffct.com.