Top 10 Best Hotdogs in Chicago to Try with Kids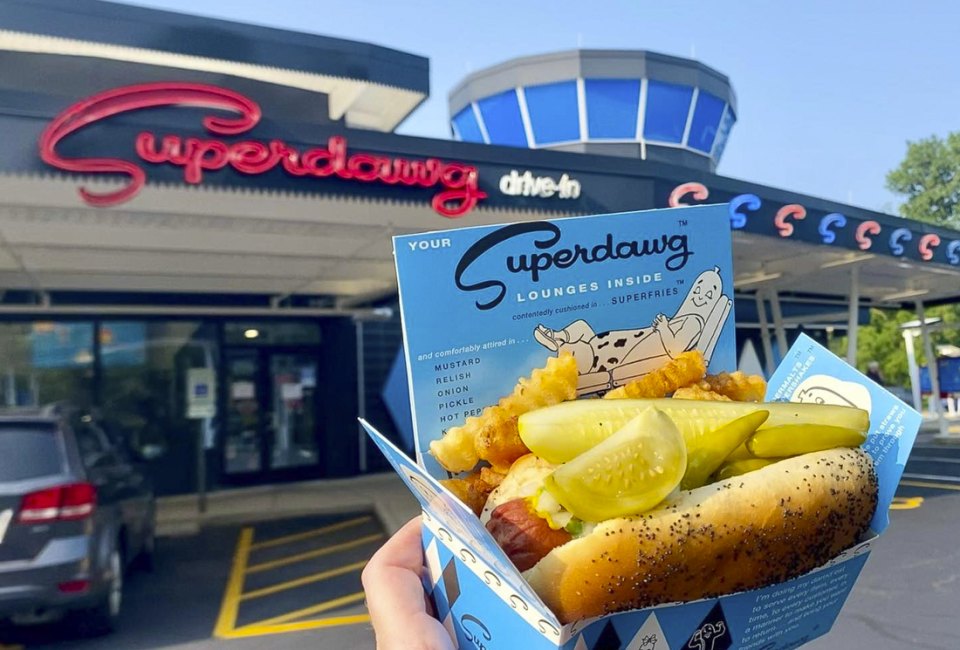 4/17/22
- By
Lauren LaRoche
When it comes to hotdogs, the infamous Chicago-dog is a classic. The key to a great Chicago hotdog is arguably the toppings. A true Chicago hotdog comes complete with sport peppers, tomatoes, pickles, celery salt, onions, relish, and mustard on a poppy seed bun. You'll notice the Chicago dog does not include ketchup. Some famous Chicago hotdog stands don't even serve ketchup as an option.
If you're looking for the best Chicago hotdogs in the city, we've got you covered. From the North side to the South side, we've rounded up the most famous hotdog stands and restaurants in Chicago. Grab the kids and get the hotdog crawl started (with or without ketchup, it's up to you). And for more dining recommendations, check out our Kid-Friendly Chicago Restaurant Guide.
Hotdogs in Chicago: Northwest Side
Superdawg is located in Jefferson Park on the city's Northwest side. Their famous Superdawg characters on the top of the restaurant are just as recognizable as their hotdogs. Superdawg is known for their classic Chicago hotdog and drive-up service. You can order at the retro drive-in and someone will bring your order right to your car. You can dine in your car or at the patio tables located next to the drive-in stations. In the winter months, you can also order at the counter indoors and take your dogs to go.
Gene & Jude's is famous for their Vienna Beef hot dogs served with French fries right on top of the bun. Their motto is "no seats, no ketchup, no pretense, and no nonsense." At Gene & Jude's you know you're getting a delicious Chicago-style hot dog, fresh cut fries, and no frills.
Hotdogs in Chicago: North Side

Photo courtesy of Wolfy's
Wolfy's is located on the North side of Chicago in Rogers Park. Their iconic sign features a giant hotdog on an oversized fork. At night, it's even lit up in all it's glory. Their Chicago-style hotdogs feature all the classic staples such as mustard, relish, onions, tomatoes, and sport peppers on a poppy seed bun.
With two locations on Lawrence Avenue and Irving Park, Byron's Hot Dog has been serving up the North side since 1975. Byron's is known for their Vienna Beef hot dogs with all the classic Chicago staples. If you want to beat the rush and take your hotdogs to-go, you can also order online for pick-up.
Redhot Ranch has two locations in Lakeview and Bucktown. 35th Street Red Hots is also a part of the Redhot Ranch family. Their classic menu features their famous Vienna Beef Chicago hot dogs, burgers, fries, fried shrimp, and polish sausage. You can also order your burger "Chicago-style" featuring mustard, relish, onion, and sport peppers.
Hotdog's in Chicago: South Side

Photo courtesy of the Duck Inn
The Duck Inn in Bridgeport is known for the rotisserie duck and their Duck Inn Dog. The Duck Inn Dog is made with all-natural beef and duck fat. This elevated hotdog features all the classic Chicago-style toppings on a brioche poppy seed bun. Food and Wine Magazine as well the Food Network have recently given the Duck Inn Dog national praise.
Memo's Hot Dogs has been in business in Pilsen since 1956. Memo's is famous for their Chicago-style hotdog as well as their spicy Diablo Dog, bacon-wrapped hotdog, and the Polish Dog served with grilled onions. It's hard to choose just one.
Hotdogs in Chicago: West Side
Fatso's Last Stand features two locations in Ukrainian Village and Lincoln Park. Fatso's Last Stand features Chicago-style dogs that are charred and topped with all the classics. You can order ahead online for pick-up and delivery. If you're looking for a side dish, make sure to check out their famous macaroni and cheese.

Since 1954! Some famous Chicago hotdog stands don't even serve ketchup as an option. Photo courtesy of Jimmy's Red Hots
Jimmy's Red Hots is located in Humboldt Park on Chicago's West side. Since 1954 they have been serving up Vienna Beef to the neighborhood and beyond. Their Chicago-style hot dog is served with all the traditional toppings as well as fresh-cut fries.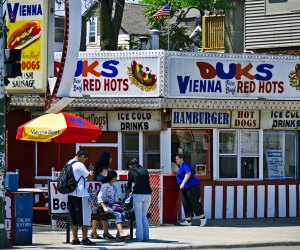 Duks Hot Dogs photo by Seth Anderson, courtesy of Flickr, CC BY-NC-ND 2.0
10. Duk's Red Hots – West Town
Duk's Red Hots was inducted into the Vienna Beef Hot Dog Hall of Fame in 2017. Since 1954 they have been serving the West side of Chicago their famous Chicago-style Vienna Beef hot dogs. You can enjoy your Chicago dog on their awesome outdoor patio in the summer months.
Click Here to Sign Up!
i