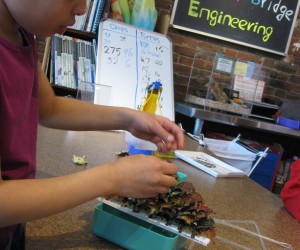 What's New and Cool at the Museum of Science
There's always something new at the Museum of Science to engage you and your young Einstein (or maybe Frankenstein) in scientific inquiry. The place is so humongous, it's sometimes difficult to choose what to do while you're there, given the kids' limited attention spans and basic needs, like snack breaks and naps.
We like to see what's new first, then visit some old favorites, like the schoolhouse and the Science in the Park exhibit. On our recent visit, we checked out the new gecko exhibit and spent a lot of time in the Discovery Center, which is a great place to go any time you visit with young children.
Geckos: From Tails to Toepads
Until May 6, 2012
Which animal goes "moo"? How about "meow"? A gecko, of course! No, really – they make all kinds of interesting sounds. There's a type of gecko whose call is so distinctive, it was named after the sound it makes: Tokay. Did you know that gecko tails are disposable? And that some geckos are basically legless and slither around like snakes?
These are the kinds of things you might hear your kids telling anyone who will listen after they visit the gecko exhibit at the Museum of Science. Before we went, we thought geckos were kinda cute, but who knew there was so much to say and learn about these small creatures?
Older kids and adults will appreciate the videos, like ones about genetically modifying leopard geckos and the adhesiveness of gecko toes. My favorite was an interactive video where you can virtually tap a professor on the shoulder, and he turns around to answer a question you select with interesting gecko factoids. Cool!
For younger kids, finding and counting the well-camouflaged geckos is a fun game, one we spent most of our time in the exhibit playing. There are 60 geckos on display, and they are so unique and fascinating, you'll want to take a look at each one. We also got to see some eggs (we thought they were mushrooms at first!) and we're hoping to go back when they hatch. If you're there at the right time (or wrong time, depending on how you look at it), you may get to witness the Tokay hunt live prey.
There are a couple of hands-on activities as well, like experiencing a gecko's ability to see at night by taking a look at insects in the dark with night vision optics. You can also hear the sounds various geckos make. We heard some strange and rude sounds coming from a dark corner, where a boy was standing. His mother went over to him in a huff and asked in an accusatory tone whether he was the one making those noises. We had to laugh when he told her it was part of the exhibit, and the geckos were making the sounds, not him!
For info on the exhibit, visit the museum's website and take a look at the exhibit page or at this press release.
Discovery Center
Tucked away on the other side of the Riverview Café and with an equally spectacular view of the Charles is the Discovery Center. Although it is designed for families with kids ages 0-8, this hands-on, interactive family oasis has something for every age. There is a cozy, soft section for babies only, and a slightly more boisterous and quite a bit larger area for preschoolers to play in and explore.
We always thought it was the littlest kids who got to have all the fun in the Discovery Center, but we were wrong. While we were there, we took the Paper Bridge Engineering challenge – my daughter built a bridge out of a single piece of paper that held the weight of 55 little plastic turtles! We held hands with a real human skeleton, captained a boat, saw live animals from underneath, created illuminating art on a giant Lite Bright-type board, and tried physics experiments.
We saw other kids exploring artifacts and animals bones, and doing projects with the staff, who were truly engaged in the process. The Discovery Center has its own website, which I highly recommend visiting before you go to the Museum of Science. It has tips for visiting with young children, information about current hands-on activities, and even gives instructions for projects you can do at home.
There are many other activities and exhibits at the Museum of Science to inspire wonder in your child, and we'd love to hear about your family's favorites. Be sure to check out my tips for visiting below.
Tara's Tips
Bring quarters. The lockers are a dollar, and you have to pay each time you open/close the locker. (Coat check is a dollar per item.)
The café is a bit pricey, and if you have a kid with a gluten intolerance, do not expect to have good options. Bring food you know is safe for your child.
To avoid crowds, go early on a sunny Sunday morning. The museum opens at 9:00AM.
The museum gift shop is one of the best I've ever seen (and I have been to a LOT of museums). This can be a good thing, if you're in the market for a gift for a science geek, a cool souvenir, or a good science-related book – the selection is terrific – but you may want to keep your kids out of the store if you don't want to hear about all the things they want you to buy.
---
Museum of Science
1 Science Park, Boston 02114
Admission: Exhibit Halls: Adults $22; Seniors $20; Children (3-11) $19. Omni: Adults $10; Seniors $9; Children (3-11) $8. Planetarium: Adults $10; Seniors $9; Children (3-11) $8.
Hours: Sep-Jun: Sat-Thu 9am-5pm; Fri 9am-9pm. Jul-Aug: Sat-Thu 9am-7pm; Fri 9am-9pm.