Happy Campers: Family Camping and Campgrounds in New York's Catskills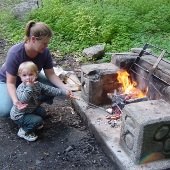 I love camping and thankfully so does my husband.  And, it looks like we are raising a happy little camper of a son even though we live in New York City.  We started our son out on an overnight camping trip to the Catskills at the tender age of two, and now at 5 years old he has a few multi-night trips under his belt.  
I don't know why more people don't like camping; yes, you get dirty and need a lot of stuff to do it, but camping trips are really great for kids – especially city kids.  They get to spend the entire time outside and learn new self-esteem building skills, like how to canoe, fish, chop wood, cook over a fire, pitch a tent, and more.  Camping trips are low-tech (although I have recently seen electrified tents), so they allow families a time to unplug and reconnect with each other.  Plus, in this economy, a tent can be an affordable alternative to a hotel. There are tent sites all over the world in family vacation destinations like Disney World and Hershey Park.
We recently wrote about how you can go camping right in NYC, but if you're ready for a trip upstate, read on and find out how to get started.
When to go:
Obviously, summer is best: good weather, no school—perfect. Camping in the fall is also nice, but hectic; the foliage and the crisp weather make it worthwhile to battle the setting sun, traffic, and school schedules to go.
Where to go:
In our pre-kid days we camped and backpacked all over the country; now we tend to stick close to home by going to the Catskills, which are beautiful and close enough to get to while it's still light out – even in Friday night traffic. We like to stay in state run campgrounds; they are consistent, and we know what to expect. New York State campgrounds provide 'amenities' such as hot/cold running showers, toilets, areas for garbage, places to wash dishes, firewood for sale, picnic tables, charcoal grills, and fire pits.  
Two great campgrounds for kids in the Catskills are:
Little Pond:
On the western side of the Catskills, a small park with a 13 acre pond, a swimming beach with lifeguard, a stream, canoes, and rowboats to rent. The Beaverkill River, famous for trout fishing, is adjacent to the park for fly fishing. Nature walks around the pond are easy and fun, and the park is also the entry point to some longer hiking trails. The sites are wooded, allowing for some privacy, and some are even waterside. Families with kids who can carry their own weight can choose a 'remote' no-cars-allowed site and pack or canoe their gear in. There is also a small camp store, a diner, and a grocery store in town for last minute essentials.  
Mongaup Pond:
In northeastern Sullivan County, not too far from the famous Roscoe Diner, this large campground has a festive atmosphere and is very popular with families. There are kids running or biking from site to site making it feel sort of like a suburban street in the woods. This campground is home to the largest body of water in the Catskills, with a large swimming beach, boats and canoes to rent, fishing, and fantastic ranger-led nature programs for children. The best part is the ice cream truck that drives around the campground twice daily, selling anything you may have forgotten and fun extras like glow sticks, ice cream, and soda. The Catskill Fish Hatchery is right outside the park for a nice diversion if needed.
What to bring:
You need a lot of stuff, but it really isn't that bad, especially if you go with another family and split it. If you don't have this stuff, Tents and Trails in lower Manhattan rents sleeping bags and tents.
To manage on a camping trip you will need:
A tent
Sleeping bags or a blow up mattress with sheets and blankets
Flashlights, lanterns and fuel are nice, too.
Food (or you can eat out at both of the campsites listed above). Keep it cold in a cooler and store it in your car to avoid pests.
Beverages – milk boxes are perfect since they don't need refrigeration
If you don't want to use the grill for every meal you can bring a portable stove, with fuel, pots and pans and utensils for cooking.
Charcoal and matches for the grill
Mess kits or paper plate, cups and plastic silverware
What you don't need is a ton of toys. There is so much going on in the park to keep little campers occupied and happy. But we do bring a few items: crayons and paper for nature rubbings, binoculars, magnifying glass, card games, glow sticks, beach stuff, a bike, and a fishing pole. 
Originally published May 26, 2010