Mother's Day Fun: Great Activities for NYC Moms and Kids to Do Together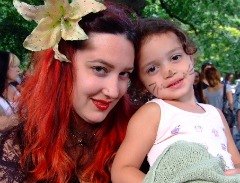 On Mother's Day, matriarchs are treated extra-special, whether it's a fancy brunch, a thoughtful gift or just some well-earned time off.
But talking to other moms (and from our own experience), we've realized that what we love most about Our Day is getting the chance to spend some downtime with our kids—no screens, no chores, no studying. It's a day to enjoy each other's company, pure and simple.
In honor of that sentiment, we've rounded up some great things your kids can do with you (instead of for you) on Mother's Day that you'll enjoy as much as they will. But why limit these great activities to Sunday, May 8? All of these activities can be done year-round, so any day can be your special day together.
See a show
Though there are many wonderful Broadway productions for families (Mary Poppins, Wicked, Billy Elliot), you might have to dip into the kids' college fund to afford them. Luckily, smaller Off Off Broadway companies are much less expensive (plus their shows don't sell out as quickly). Manhattan Children's Theatre's The Complete Works of Brothers Grimm (Abridged) runs through May 30 and is good for kids ages 4 and up. Tickets are $20. Park Slope's Puppetworks' marionette mounting of The Wizard of Oz runs through August and is good for all ages. If you've got a tween, the New Victory is bringing back its dark take on Peter Pan, Peter and Wendy, beginning this weekend, featuring puppets by the amazing Basil Twist. Tickets start at $14. There's even a no-cost option: Venerable children's theater troupe the Paper Bag Players puts on Whoop Dee Doo! at the Henry Street Settlement at 2pm on Sunday for free. All of these shows have performances on Mother's Day.
Play with your hands
We're not talking crafts; we mean Ping-Pong. Will Shortz, the New York Times crossword puzzle genius, has been spotted playing at Wang Chen's Table Tennis Club on the Upper West Side ($8 per hour for nonmembers). And celebrity city mama Susan Sarandon opened her own Ping-Pong club on East 23rd Street called SPIN ($10 per half hour for nonmembers). Or you could hit a kid-friendly bowling alley. Leisure Time at Port Authority has rebranded itself as the chichi Frames Bowling Lounge, and Bowlmor Lanes recently opened a super-swanky (and super expensive!) location in Times Square. But outer borough alleys offer no-frills play for a lot less. And there's always mini golf.
Take afternoon tea
If you've got a daughter who's into all things pink and princess-y, a royal day is in order. There are quite a few places that offer tea service around town. Manhattan mini-chain Alice's Tea Cup has a variety of scones, muffins and hot signature beverages, and lends every little patron a pair of fairy wings. Over at The Plaza's Palm Court, families can try the kid-lit-inspired Eloise Tea and play dress up in the adjacent Eloise Shop. Tea at the American Girl Cafe accommodates every member of your family, even dolls. Warning: Reservations are a must and although these outings don't cost anywhere as much as the Royal Wedding, most commoners would call them a splurge.
Eye beautiful art
Turn Mother's Day into an artful adventure. At MoMA, moms are treated to a special private breakfast, followed by a group tour of the exhibitions. The experience does not come cheap of course: It's $70 for nonmembers, but you can take advantage of the museum year-round, and even enjoy free admission on Friday evenings. For a totally free art experience on Sunday, head to Battery Park City's Rockefeller Park, where sculptor Tom Otterness will chat about his The Real World installation at 2pm. Afterward attendees will make their own clay masterpieces to take home.
Get crafty
We do a lot of posts about crafts. That's because we love getting creative with our kids. Since the end of the school year is looming, we recently wrote about things your kids can make to give to their teachers, and that's a great activity to do together. Whether you're an expert with your own craft corner at home, or a novice looking for professional guidance, there's a craft you can get into: paint-your-own-pottery, beading, even making knickknacks from leftover candy.
Enjoy the great outdoors
In honor of Earth Day, we shared fun ways for families to connect with nature in the city. All of the activities still apply: You can take a hike, go bird-watching, plant some flowers and much more. On Mother's Day, Queens' Alley Pond Park is hosting a particularly colorful event: a Wildflower Walk led by Urban Park Rangers. Although you can't pick a bouquet to take home, the experience is totally free.
Go to a spa
Yes it's a cliche, but there's a good reason for that. Relaxing and beautifying is, in a word, awesome. How often do moms get a chance to do that, with or without their kids in tow? If you're just looking to do a mother/daughter mani-pedi, hitting your local salon should suffice. But if you want to make a day of it, try Spa Castle. We recently visited this family-friendly Queens oasis and were impressed with its cleanliness, offerings and amenities, including a Zen Garden with a babbling brook.
Share a good story
Lots of stores and libraries host regular story times. We're particular fans of the events at Books of Wonder, which happen pretty much every weekend, including this Sunday. If your reader's 10 or older, drop by the Chelsea shop to hear three writers read from their works, including two-time Newberry Honor author Gary Schmidt who will share Okay for Now. If your family is inspired, head to the Upper West Side Make Meaning to create your own tome.
Race around town
We know we said Mother's Day should be about downtime, but The Amazing New York Race takes place the day before, so we're sneaking it in here. All you need to participate in this scavenger-hunt-meets-obstacle-course are comfy shoes, unlimited MetroCards and a phone with a camera. On Saturday, May 7 this usually adults-only event is hosting a special Mother-Kid race from 11:30am-2:30pm ($35 for adults, $17.50 for kids) that will have your family running all over Central Park. We've seen teams tackling other editions of this race, and they always look like they've having a blast. If you'd rather race around indoors, check out all of the family hunts organized by Watson Scavenger Hunts, including editions at the American Museum of Natural History, the Cloisters and even a Harry Potter-inspired hunt at the Metropolitan Museum of Art called The Wizard School Scavenger Hunt. None are happening on Mother's Day proper, but maybe your family can buy you tickets for a future date. A promise of family fun in the future? That's a great gift for mom.
Don't forget: There's even more fun in the Mommy Poppins Events Calendar.
Image: zimpenfish