Ice-Skating in NYC: 11 Outdoor Ice Rinks & Most Open This Month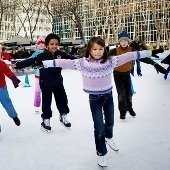 Last skating season brought tidings of brand-new rinks, but this year, the city is actually losing ice-skating spots. The Bronx's sole place to skate, the Van Cortlandt Park Rink, won't be open this season and the proposed Highbridge Park Rink in Washington Heights is on ice for now. Of course, it's very possible that new rinks may pop up once winter cools down, and we'll be sure to update this post if that happens.
The good news is that we still have 11 outdoor rinks in NYC, and five open for business in October: Wollman Rink in Central Park, Lakeside in Prospect Park, the Ice Rink at Rockefeller Center and Winter Village at Bryant Park.
Most of NYC's outdoor ice rinks offer skating lessons and birthday party packages, and many also have ice hockey. Always check the rinks' official websites before heading out to confirm public skating hours as they change throughout the season, especially during the holidays. And if it ever gets too cold to glide outside, you can always hit one of NYC's six indoor ice-skating rinks.
Ice Rink at Rockefeller Center – Midtown East
Fifth Avenue between 49th and 50th Streets
212-332-7654
Open through April 2015, times vary. Find the complete schedule on the website.
Prices vary. Visit the website for up-to-date info.
Every tourist's favorite rink opened for the season on October 13. Despite its popularity, it isn't always crowded with three-hour waits—that's just when the Christmas tree is lit. Skating early or late in the season is fun and easy—if expensive. In fact, even during off-season, it's by far the priciest rink in the city.
Bank of America Winter Village at Bryant Park – Midtown West
Bryant Park, 40th Street between Fifth and Sixth Avenues
212-661-6640
Open Tuesday, October 21 through Sunday, March 1, 2015, times vary. Find the complete schedule on the website.
FREE, $15 for skate rental
NYC's only no-cost rink regularly attracts insane crowds. The best time to go is early in the season before Thanksgiving, when the weather is mild and the lines are short (or at least, shorter). Don't even try to go during holiday break. Later in the season, stick to weekdays before 5pm and early weekend mornings. If you really can't stand to wait, you can opt to buy a variety of VIP Fast Passes, which all include entry, skate rental and bag check for $22 and up... but that kind of defeats the purpose of visiting a free rink. Winter Village also features an indoor restaurant and seasonal holiday shops. Bring your own blades and locks! Otherwise you'll end up shelling out $15 and $9 for each, respectively.
LeFrak Center at Lakeside – Prospect Park
171 East Drive in Prospect Park, enter at the Parkside/Ocean Avenue or Lincoln Road/Ocean Avenue entrances
718-462-0010
Open Saturday, October 25 through March 2015, times vary. Find the complete schedule on the website.
Weekdays: $6; weekends: $8; $6 for skate rental
Built on the old Wollman Rink site, this complex features 32,000 square feet of skating surface on two rinks: one open-air, the other covered. Skating lessons, hockey leagues and birthday party packages are all offered. Additional amenities include a cafe, restrooms, bag check and a green roof with incredible views. In summer, the rinks transform into a roller rink and water play area. Read our full review of Lakeside.
Wollman Rink – Midtown West
Central Park, enter at Central Park South and Sixth Avenue
212-439-6900
Open Saturday, October 25 through mid-April 2015, times vary. Find the complete schedule on the website.
Monday-Thursday: $11.25 for adults, $6 for children under 12; Friday-Sunday and holidays: $18 for adults, $6 for children under 12; $8 for skate rental; $5 cash only spectator fee
We couldn't do this roundup without mentioning this iconic NYC skating spot. But this rink is not only perpetually crowded, it even charges a spectator fee! Of course every family should wait in line to ice-skate here at least once. Try to arrive at the start of the first session or right after school to get a few spins in before the hordes arrive.
WWII Veterans War Memorial Ice Skating Rink – Staten Island
Clove Lakes Park, Victory Boulevard west of Clove Road
718-720-1010
Open Saturday, October 25 through Sunday, March 29, 2015, times vary. Find the complete schedule on the website.
$9, $5 for skate rental
Located in the gorgeous Clove Lakes Park, this is the only outdoor skating rink on Staten Island and is therefore very popular with borough families. If you're interested in skating lessons, call 718-390-7245. Planning a skating party? That number is 718-720-1014.
Riverbank State Park – Harlem
679 Riverside Drive, enter park at 145th Street
212-694-3642
Open Saturday, November 8 through March 2015
$5 for adults, $3 for children under 12 (helmet required and provided); $6 for skate rental.
Although this covered rink was closed all summer for renovations, it has reopened for ice-skating season! Most people don't even know about this skating spot in the awesome Riverbank State Park. It's rarely crowded, offers an inexpensive ice hockey program and ice-skating lessons, and you can buy a season pass, too. After you skate, check out the park's other attractions, including an indoor swimming pool, sports fields and amazing views.
South Street Seaport Rink – South Street Seaport
Open Saturday, November 15 through Sunday, March 1, 2015, times vary. Find the complete schedule on the website.
$10, free for children under age 6; $6 for skate rental
South Street Seaport's skating spot is back for a second season. Plans are underway for a soft opening in mid-November, while the grand opening will coincide with the neighborhood's popular tree-lighting ceremony. Residents living in zip codes 10038, 10004 and 10005 get 50% off (proof required), and season passes are also available. There aren't any lockers, but for $8 you can stuff all your items into a big sack and check that.
McCarren Rink – Williamsburg
776 Lorimer Street
Open Saturday, November 15 through Sunday, January 4, 2015, times vary. Find the complete schedule on the website.
$11 for adults, $6 for children; $6 for skate rental
The McCarren Park pool finally turned into an ice-skating rink last year and has reopened for its second season. Boasting 9,000 square feet of natural ice-skating surface, the rink has a short season (not even two months!) so get there while you can. A snack bar is also on-site.
The Rink at Brookfield Place – Battery Park City
In front of Brookfield Place's Winter Garden, 250 Vesey Street between West Street and North End Avenue
646-656-1384
Open Saturday, November 22 through Sunday, March 22, 2015
$15 per 90-minute sessions, season passes also available; $5 for skate rental
Enjoy stunning views of New York Harbor and the Statue of Liberty while skating around this rink, which returns for its second year. At 7,350 square feet, it beats the Rock Center rink and can accommodate 250 skaters at a time. This year, the rink is partnering with Hudson Eats vendors like Sprinkles Cupcakes and Little Muenster for snacks, and Manhattan Youth Code is running family learn-to-skate lessons on weekends.
The Standard Ice Rink – Meatpacking District
848 Washington Street at 13th Street
Open Wednesday, November 26 through March 2015
$12 for adults, $6 for children; $3 for skate rental
The swanky Standard hotel's 3,000-square-foot ice rink will reportedly be back again this winter. Though it is open to all ages, the scene has always been more hipster than family, but it makes for a good destination after an icy winter walk along the High Line.
Lasker Rink – Harlem
Central Park, enter at 110th Street between Lenox and Fifth Avenues
917-492-3856
Open Thanksgiving Day through March 2015, times vary. Find the complete schedule on the website.
$7.50 for adults, $4 for children under age 13, $6.50 for skate rental
So Lasker opened for the season in October, only to close in November because its refrigeration plant needed to be replaced. It happened quickly and now the rink is reopening on Thanksgiving Day. This rink is my personal favorite. It's easy to get to, inexpensive and not as crowded as most of the others. You'll find lots of school groups on weekdays, and locals in the evenings and on weekends. Ice hockey, skating lessons and parties are all available. Afterward, stick around and explore this lovely part of northern Central Park, including the recently renovated East 110th Street Playground.
Find out more information about ice-skating parties at these rinks. We've also got the scoop on New York City's indoor ice-skating rinks.
A previous edition of this post was originally published in October 2009.