9 Outdoor Ice Skating Rinks to Visit with Kids in New York City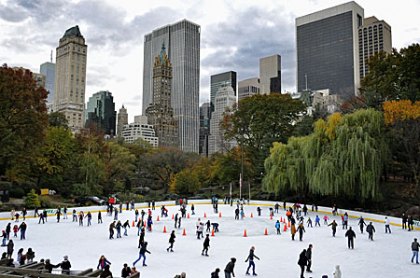 It's time to sharpen those ice skates! New York City's outdoor ice rinks are open at last for some family winter fun.
Whether you prefer to twirl with the tourists at Rockefeller Center and Central Park's Wollman Rink, or go off the beaten path to a Mommy Poppins favorite like Lasker Rink, the city offers plenty of options for newbies to more polished skaters. 
There are some changes to note this season: unfortunately, both the South Street Seaport's rink and Brooklyn's McCarren Park rink will not open for the 2015-2016 season. The good news is that nine other outdoor rinks will. And if it ever gets too cold to glide outside for the kids, you can always hit one of NYC's indoor ice-skating rinks.
Most of these ice rinks rent kid ice skates, skating lessons and birthday party packages, and many also host ice hockey leagues.
Remember, click through to the rink's website to confirm skating times and daily availability before heading out as schedules often change throughout the season, especially during the busy NYC holiday season. 
Bring your own skates and you'll slide on the Bryant Park rink for free! Photo by Colin Miller/courtesy the Winter Village.
Bank of America Winter Village at Bryant Park – Midtown West
Bryant Park, 40th Street between Fifth and Sixth Avenues
212-661-6640
October 30-March 6, 2016
FREE admission; skate rental prices and hours vary, check website.
NYC's only no-cost rink regularly attracts insanely massive crowds. The best time to go is early in the season before Thanksgiving, when the weather is mild and the lines are short (or at least, shorter). Don't even try to go during holiday break. Later in the season, stick to weekdays before 5pm and early weekend mornings if you can. If you really can't stand to wait, purchase a VIP Fast Pass, which includes entry, skate rental and bag check for $22 and up. Winter Village also features a snack bar, indoor restaurant and seasonal holiday shops. Bring your own blades and locks for a truly free skate session.
RELATED: Rockefeller Center: Family-Friendly Restaurants
The famed Rockefeller Center ice rink draws big crowds to Midtown. (Photo by Andrew Nash via Flickr.)
Ice Rink at Rockefeller Center – Midtown East
Fifth Avenue between 49th and 50th Streets
212-332-7654
October-April 2015
Hours, rates and skate rentals vary; visit website for updates.
Every tourist's favorite rink opened for the season on October 10. Despite its popularity, it isn't always crowded with three-hour waits—that's just when the Christmas tree is lit. Skating early or late in the season is fun and easy—if expensive. In fact, even during off-season, it's by far the priciest rink in the city. It fits just 150 skaters, hence the waits, but some believe it offers one of the most charming, intimate skating sessions even though you're skating smack in the middle of NYC! Sign up for one of the special packages like Breakfast with Santa for an extra special holiday treat.
Lasker Rink – Harlem
Central Park, enter at 110th Street between Lenox and Fifth Avenues
917-492-3856
October 30-March 2016; times vary.
Spectators pay full price and all payment is cash only.
This gem of a rink is easy to get to, inexpensive and not as crowded as most of the others. You'll find lots of school groups on weekdays, and locals in the evenings and on weekends. Ice hockey, skating lessons and parties are all available. Afterward, stick around and explore this lovely part of northern Central Park, including the recently renovated East 110th Street Playground.
RELATED: 100 Things to Do with Kids in NYC 
Prospect Park's side-by-side rinks offer plenty of room for kids to practice.
LeFrak Center at Lakeside – Prospect Park
171 East Drive in Prospect Park, enter at the Parkside/Ocean Avenue or Lincoln Road/Ocean Avenue entrances
718-462-0010
October 31-March 2016
Hours, rates and skate rentals vary; visit website for updates.
Built on the old Wollman Rink site, this complex features 32,000 square feet of skating surface on two rinks: one open-air, the other covered. Skating lessons, hockey leagues and birthday party packages are all offered. On November 7, LeFrak is offering a "Try for Free Day," where visitors can sample all the rink's programs—from skate school to broomball, hockey and more—gratis before registering. Additional amenities include a cafe, restrooms, a bag check and a green roof with incredible views. In summer, the rinks transform into a roller rink and water play area. Read our full review of Lakeside.
Riverbank State Park – Harlem
679 Riverside Drive, enter park at 145th Street
212-694-3642
November 7-March 2015
Hours, rates and skate rentals vary; visit website for updates.
Those beyond Harlem's borders don't even know about this skating spot in the awesome Riverbank State Park. It's rarely crowded and one of the least expensive rinks for public skating ($5/adults; $3/children). Riverbank also offers an inexpensive ice hockey program and ice-skating lessons and season passes are also available. After you skate, check out the park's other attractions, including an indoor swimming pool, sports fields and amazing views. While there's a snack bar adjacent to the rink, those in search of something more hearty can visit the newly-opened Sofrito NY restaurant near the entrance to the park. Note: Helmets are required for those under 12, but the park provides them.
RELATED: Best Snow Tubing Near NYC
The rink at Brookfield Place is popular among neighborhood kids who fill the ice after school. Photo provided by venue.
The Rink at Brookfield Place – Battery Park City
230 Vesey Street between West Street and North End Avenue
(In front of Brookfield Place's Winter Garden; walk toward water!)
646-656-1384
November 16-March 2016
Hours, rates and rentals vary; visit website for updates.
Enjoy stunning views of New York Harbor and the Statue of Liberty while skating around this rink, which returns for its third season. The ice is cleared at the end of every session, so don't dawdle getting on the ice (you pay per "session" here)! At 7,350 square feet, it beats the Rock Center rink in terms of space and can accommodate 250 skaters at a time, but prices are a bit steeper than at NYC park rinks ($15/session). Parent-and-child skate lessons and ice hockey classes are offered. FREE lessons will take place November 28, December 5 and January 9. Check its website or Facebook page for more info. Afterward, there are plenty of places in the family-friendly Battery neighborhood, and always some great event happening at the adjacent Brookfield Place where you can find bathrooms, a cup of hot cocoa and snacks.
Wollman Rink – Central Park
Central Park, enter at Central Park South and Sixth Avenue
212-439-6900
October 24-mid-April 2016
Hours, rates and rentals vary; visit website for updates.
(Note: Only cash is accepted here.)
We couldn't do this roundup without mentioning this iconic NYC ice-skating spot. Though it is perpetually crowded, every family should skate here at least once. Try to arrive at the start of the first session or right after school to get a few spins in before the hordes arrive. A moonlit post-dinner skate is always fun, too. You'll be rewarded with one of the most iconic views of Midtown, not to mention a perimeter of pretty, possibly snow-dusted trees of Central Park—as well as tired kids, ready for bed! Lockers available for a fee.
The Standard Ice Rink – Meatpacking District
848 Washington Street at 13th Street
Hours, rates and rentals vary; visit website for updates.
The swanky Standard hotel's 3,000-square-foot ice rink will reportedly be back again this winter, though it hasn't yet confirmed the details. Though it is open to all ages, the scene has always been more hipster than family, but it makes for a good destination after an icy winter walk along the High Line.
WWII Veterans War Memorial Ice Skating Rink – Staten Island
Clove Lakes Park, Victory Boulevard west of Clove Road
718-720-1010
October 31-April 3, 2016
Hours, rates and rentals vary; visit website for updates.
Located in the gorgeous Clove Lakes Park, this is the only outdoor skating rink on Staten Island and is therefore very popular with borough families. If you're interested in skating lessons, call 718-390-7245.
Got a winter baby? Find out more information about ice-skating parties at these rinks.
Top photo of the Central Park Wollman Rink by Diana Robinson via Flickr.
This article, originally published October 2009, is updated annually.