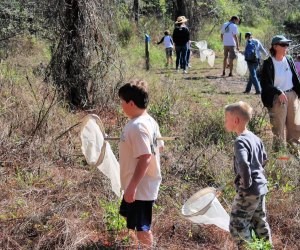 Things To Do in Orlando this Weekend with Kids: Fall Festivals, Great Outdoors Day, Insect Safari
Celebrate Fall in Orlando this weekend, with a fun range of activities for families with kids of all ages. There's plenty of indoor and outdoor fun. If you're looking to take advantage of the beautiful Fall weather, take a look at the Fall Fiesta at Lake Eola Park, which has lots to do for kids and adults alike. Or try fishing at the Great Outdoors Day in St Cloud.
If the weather is not cooperating, hands-on art projects for kids at the Orlando Museum of Art might be a good pick for a rainy Sunday afternoon.
Read on for a selection of the best things to do with kids in Orlando this weekend. Be sure to bookmark our events calendar to keep up with the latest family activities in Orlando, and sign up to our weekly newsletter to stay in the loop.