Scholastic Store Extreme Makeover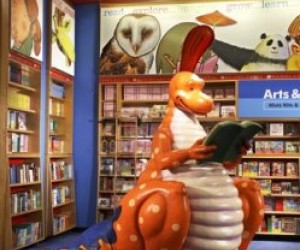 Sadly the Scholastic Store closed in January 2015. In my opinion the Scholastic Store in SoHo is one of the better kid stores in New York City. Whether I am looking for books, toys or a last minute birthday party present, I know I can always find something of quality at the Scholastic Store. Most of the toys and books are educational as well as being fun. They've just done a complete overhaul of the store making this great shopping experience even better.

Read more to find out some of the changes at the Scholastic Store in SoHo, some last minute gift ideas.
Guided shopping areas organized by age and interest
An 11-foot-tall dinosaur with a bean bag tail where kids can play or sit and read
A Magic School Bus kids and families can step in to
An expanded bilingual books and books in Spanish sections for every age
Creative activity area and magnetic Build-a-Book activity board
Another good reason to visit The Scholastic Store is for their free special events every Saturday and free story-times every Tuesday and Thursday at 11 a.m. While these events are on hold until after the hectic holidays, they will resume in January.

To help with last minute Holiday shopping ideas Hope van Winkle, the Scholastic Store Director, has put together a gift guide just for Mommy Poppins readers.

Scholastic Store Gift Guide
For babies & toddlers: the Little Scholastic line (Ages 0-3, $9.99 and up)
For preschoolers who are being introduced to the world of computer learning: Clickstart My First Computer (Ages 3+, $59.95)
For kids who love learning pranks and other useful info: The Encyclopedia of Immaturity by Klutz (Ages 8+, $19.95)

For kids (and adults) who can't get enough of Star Wars or pop-up books:

Star Wars: A Pop-Up Guide to the Galaxy (Ages 6+, $32.99) and the Star Wars Jumbo Chubby: Darth Vader (Ages 8+, $59.95)

For tweens & teens who love video games and being active:

Dance, Dance, Revolution DVD game (Ages 6+, $29.95)

For tweens & teens who love fantasy:

Harry Potter Hardcover Boxed Set #1-7 (Ages 9+, $136.50)

Find more great activities like this in our
.