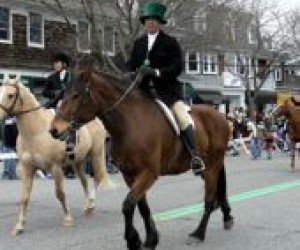 Long Island Weekend Events March 12 & 13: St. Patrick's Day Fun, Grandma's Kitchen, a Scavenger Hunt and More
St. Patricks Day is coming, and if you are in the spirit, we've got some fun ways to celebrate. Even if green isn't your favorite color, Saturday has the promise of sun so it might be fun to take in a parade or join a Pot o' Gold scavenger hunt. And if you aren't clamoring to shout Erin Go Braugh we've got some other great stuff for you too. A cool workshop that brings you back to Great Grandma's kitchen in the 1800s, a seal walk, and more are on offer this weekend. Enjoy the sunshine.
Great Grandma's Kitchen
Connetquot River State Park Preserve
Oakdale
631-581-1005
Saturday, March 12
10am-11:30am
Go back in time to the 1800's and make some old school gadgets, like soap savers, syllabub churns and self-heating irons. $3 per child. Resistration required.

Lucky Leprechaun FInger Puppets
Long Island Children's Museum
Garden City
516-224-5800
Saturday, March 12, 2:30pm-4:30pm
Fun for all ages here. Make leprechaun finger puppets with the family, then make a wish. Free with museum admission.

St. Patricks Scavenger Hunt
Suffolk County Farm and Education Center
Yaphank
631-852-4600
Saturday, March 12, 11am-12:30pm
Hang out at the farm and participate in the annual Pot o' Gold Hunt. Food, drink and a wagon ride included. $6 per person. Pre-registration required.

St. Patrick's Day Parade
Westhampton
Saturday, March 12, noon
Pipe bands, Irish step dancers, floats and more. It's a parade, it's free and fun for all.


Celtic Fun with Darlene Graham and the Shades of Green Band
Long Island Children's Museum
Garden City
516-224-5800
Saturday, March 12 and Sunday, March 13 at 2pm
Celebrate St. Patricks day with traditional, kid-friendly Irish music. Sing along and stomp your feet. Ages 3 and up, $4 with museum admission, $8 theater only.


Seals Walks
Theodore Roosevelt Nature Center
Jones Beach State Park, Wantagh
516-780-3295
Sunday, March 13, 1:30pm
We love the seal walks. An intro program followed by a nice walk on the beach (led by a State Park Naturalist), and a chance to see seals! $4 per person. Registration required.

This next event is actually for Monday night, but the circus doesn't come to town every day.

Circus Animal Walk
Long Island Children's Museum
Garden City
Monday, March 14 from 6pm-9pm
Fun, crafts and entertainment. Dress up for the occasion (as a circus performer, of course) and see the circus animals as they parade past the museum. Tickets $8. Limited capacity. Buy tickets via phone 516-224-5802, or in person during box office hours.