Eco-Friendly Living in One Of Manhattan's Most Kid-Friendly Neighborhoods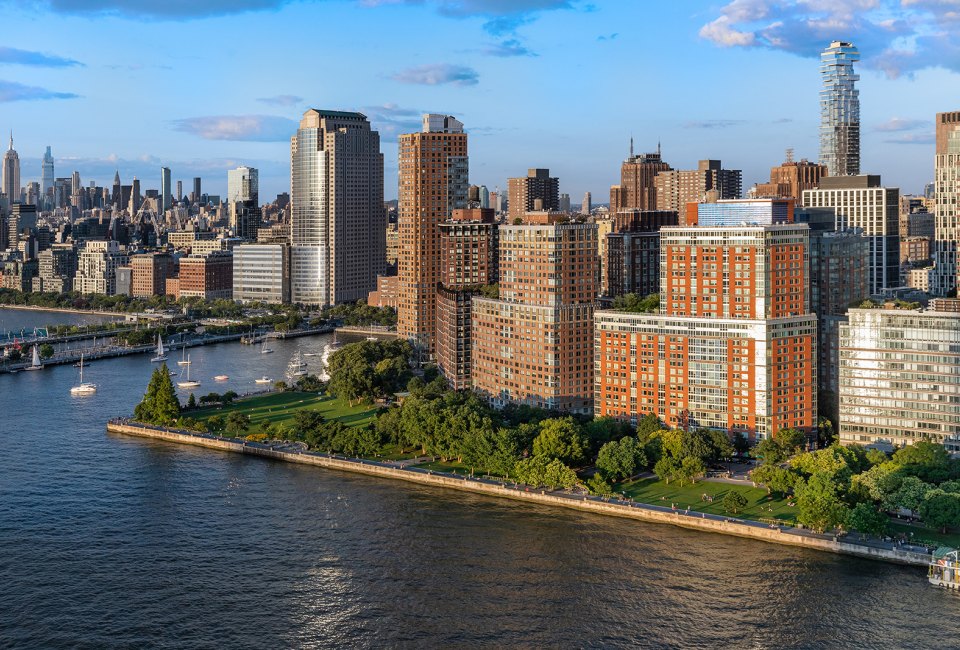 9/21/23
- By
Jessica Laird
Battery Park City is a favorite neighborhood for families because it provides an almost-suburban lifestyle where kids get to play in sprawling parks and playgrounds, participate in sports leagues, and attend high-quality local schools–all while being steps from Tribeca, the Financial District, and everything that Manhattan has to offer.
Within the beloved neighborhood, The Solaire stands out as a family-friendly luxury high-rise with eco-conscious features, three-bedroom homes, and a suite of amenities for all ages (think nature-themed playroom for kiddos and a state-of-the-art fitness center for busy parents).
If afternoons on the giant slide in Teardrop Park and fun family dinners at Brookfield Place's enormous food court sound good to you, read on to learn more about living in this incredibly kid-friendly neighborhood and building.

From parks to carousels, milkshakes to art–Battery Park City has it all
Located between Rockefeller Park and Teardrop Park, The Solaire is right in the center of walkable Battery Park City, putting all of the neighborhood's best activities for kids just steps away.
Walk right out your door to Teardrop Park, with its playgrounds, sand pits, and splash pads, or lay out a blanket on one of the grassy lawns along the water. Check out books at the beautiful Battery Park City Branch of the NYPL or sign up for swim classes at Asphalt Green. Grab hot dogs and milkshakes at Shake Shack and snag a table by the marina, catch the latest event or exhibit over at Brookfield Place, or go for a spin on the famed Seaglass Carousel.
With the many kid-approved attractions and multiple highly-regarded public schools, Battery Park City is a cohesive community that families tend to fall in love with. It's an area where neighborhood children and parents plan regular park meet-ups and constantly cross paths at little league games and Whole Foods. It's no wonder that The Solaire became Manhattan's best-selling building in 2022 when it first became available for purchase.

Building amenities that were designed with kids, teens, and adults in mind
The Solaire offers something for everyone, with a brand new suite of amenities designed by renowned architects COOKFOX.
Families can relax on the beautifully-landscaped roof deck with stunning views of the Hudson River, entertain friends in the resident's lounge, and even play video games or enjoy a movie together in the media room. The Solaire's youngest residents can also let loose in a light-filled, nature-themed playroom that celebrates the building's proximity to the park.
Meanwhile, parents may appreciate the 24-hour friendly, helpful concierge service and–at an additional cost–on-site parking with EV charging stations, private storage, bicycle storage, and cold storage. The Solaire residents can also make the most of the on-site state-of-the-art fitness center, in addition to having access to some of the city's most picturesque running and biking paths right outside their front door.

Environmentally-friendly features you certainly won't find in all Manhattan buildings
If you're all about going green, note that The Solaire was actually the first LEED Gold high-rise residence in the United States, boasting several advanced eco-friendly features that are unique to residential buildings in New York.
The Solaire features a facade of photovoltaic cells that generates electricity for the building, as well as an on-site water treatment center that allows the building to consume only half of the water as a similarly sized building in New York City. There's also a top-of-the-line air conditioning system that removes harmful pollutants from the interior air, and rainwater irrigation to sustain the landscaped green roofs.

A rooftop apiary churning out local honey–yes, really!
Don't be surprised when you spot jars of honey in the lobby produced by the building's very own bees! For the last five years, The Solaire has worked with Best Bees to maintain two beehives on the roof, working to support the local ecosystem.
"The Solaire is committed to fostering sustainable practices in the building, and the introduction of a rooftop apiary five years ago has been a fun and creative way to interact with our Battery Park City ecosystem," says Corcoran Sunshine's Aaron Goed, Director of Sales at The Solaire. "Best Bees manages and harvests honey from the handcrafted rooftop apiary so we can give jars of our own honey to residents, who appreciate the unique connection to our surrounding green spaces in the neighborhood."

Brand new three-bedroom residences, plus a range of home sizes available now
The Solaire recently released a number of larger residences, perfect for big or growing families! Don't miss the selection of three-bedroom three-bath homes, all with stunning park or river views.
For more options ranging from studios to three-bedrooms, you can see all available units here. Note that there are two distinct residence styles: The Original Solaire Collection and the beautifully redesigned COOKFOX Collection.
If you'd like more information about The Solaire or are ready to take a tour of the on-site model residences, contact the Corcoran Sunshine sales team at 212.349.1000. You can also visit TheSolaire.com and follow Instagram @TheSolaireNYC for more building updates.
All photos provided by The Solaire
Places featured in this article:
t Click Here to Sign Up!