Rainforest Adventure Awaits at Ecotourist Gem in Honduras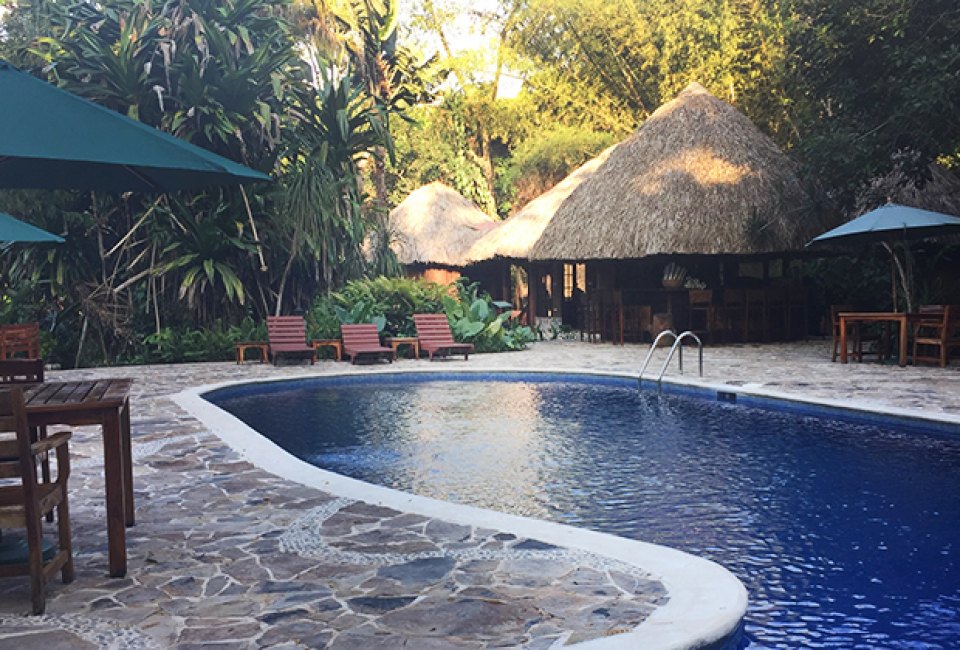 6/11/16
- By
Anna Fader
Imagine eating breakfast while toucans soar from tree to tree just feet from your perch. By day, you hike the same trails that cougars roam at night. And your evening activity is prowling the resort paths spotting kinkajous, tree frogs, and spiders as big as your fist. This is not a canned jungle-themed ecotourism resort experience; this is the jungle. And you are in it.
Off the radar for many, Honduras offers 300,000 acres of protected rain and cloud forests and beautiful Caribbean waters with one of the last unspoiled coral reefs. The Lodge and Spa at Pico Bonito, named for the national park it sits in, is one of the independent properties trying to draw more ecotourism to help ensure that the amazing natural resources, and the stunning array of wildlife that live in them, persevere.
There are no direct flights to Honduras, unless you live in Miami, and the resort is two and a half hours away from the airport, so getting to Pico Bonito is a commitment. But, once you are there, you can literally walk right off the property into primary rainforest. It's a paradise for nature-loving families looking for a real get-away-from-it-all vacation in a new place.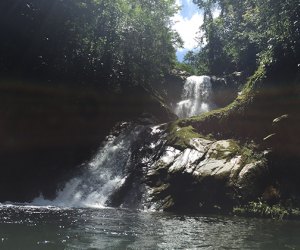 After your hike, catch these incredible falls and then hop in the crystal clear water for a swim. Photo by the author.
There are several hikes you can take right from the property, from an easy self-guided loop trail to a guided hike through primary rainforest to Unbelievable Falls. That moderate hike takes about two hours each way and rewards you with a refreshing swim in crystal clear waters beneath a spectacular waterfall. Along the way, your guide will point out cocoa and coffee trees, birds, frogs, lizards, and monkeys, if you're lucky.
The Lodge and Spa at Pico Bonito is a favorite stop for birders and offers early morning birding hikes and a night hike. Kids will particularly enjoy the night hike, which is really an evening stroll to spot nocturnal wildlife like tree frogs, lizards, snakes, and insects. On our night hike we were lucky to spot a kinkajou staring back at us with its big eyes. There's also a butterfly farm and serpentarium that children will enjoy visiting on the property.
RELATED: See more Caribbean travel in our Caribbean Family Travel Guide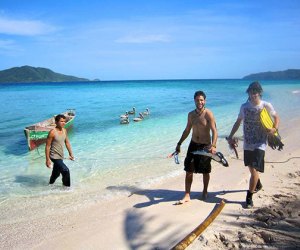 A fisherman and snorkerlers on one of the Cayos Cochinos islands. Photo by New World Trips via Flickr.
With all that on site, you could have an enjoyable vacation without ever leaving the property, but then you would be missing Honduras' other natural wonder, the world's second largest barrier reef. Just 10 miles off the coast, Cayos Cochinos is a group of 15 small islands designated as a protected biological preserve with the surrounding coral reef. And, the snorkeling is amazing. Your guides will take you to spots appropriate for your group. We went to a calm, shallow spot where even young children or beginners could see an incredible rainbow of fish and coral. In just a few feet of water, we saw barracuda, stingray, a trumpet fish, colorful parrot fish, angel fish, and many, many colorful tropical fish swimming and hiding in the coral. This is the snorkeling of travel brochures.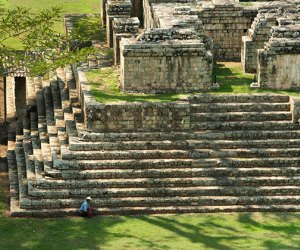 A groundsman trims the lawn surrounding a Mayan temple of Copá​n. Photo by Alex Schawb via Flickr.
Other excursions offered include a visit to Mayan ruins, whitewater rafting, a manatee refuge, or a small rural village. But, after all that activity you might be ready for some R&R. The resort has a pool area and a brand-new organic spa offering massages and an array of skin treatments inspired by local ingredients. A unique feature is the Temazcal, a traditional Mayan and Aztec sweat lodge that can be enjoyed to help relax weary muscles. Of course, this is one spa where the soundtrack is the actual jungle, not a pre-taped recording.
RELATED: 23 Best All-Inclusive Family Resorts in the US and Caribbean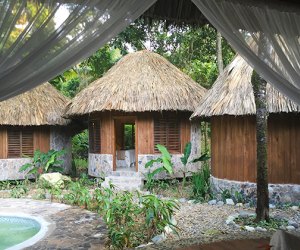 Pico Bonito offers a spa and private cabins, including those with adjoining rooms for families. Photo by the author.
Accommodations at The Lodge and Spa at Pico Bonito are the perfect blend of rustic and luxury. Guests stay in private cabins nestled in the forest around a central garden. Each cabin has an inviting porch with a hammock to rock gently to the sound of bird calls and the jungle. The rooms are clean and feature king-sized beds or two queens made up with crisp white linens. There are also some cabins with connecting rooms, perfect for families. The wood and wicker decor with whirring ceiling fans feels just right for the setting, and I loved the giant handcrafted wood blinds that could be opened to let the sounds and sights of the surrounding rainforest in.
If your idea of leaving it all behind doesn't include turning off your electric devices, you can log in to the free wifi from anywhere on the property. The service is not what you're used to at home, but, hey, you're in the rainforest, chill out. The rooms have docks for the latest iPhones and plenty of electrical outlets. There are no TVs except for one in the lounge off the restaurant, which also has a lending library and lots of DVDs. If the rain spoils your plans, there is a game room with foosball, pool, and ping-pong, as well as board games.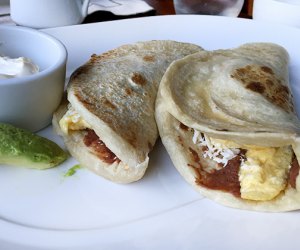 Baleadas for breakfast at the hotel. Photo by the author.
The hotel restaurant offers a high-quality a la carte menu with lots of fresh seafood and a variety of familiar continental and Central American dishes. I became addicted to the baleadas, a thick, soft flour tortilla filled with refried beans, egg, and cheese that is a common sight at the Honduran breakfast table.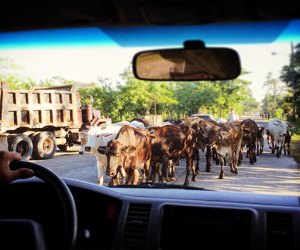 Everyone we met, including in the rural countryside was very friendly. Photo by the author.
While the natural bounty of Honduras is Edenic, not all is perfect in paradise. Honduras is a very poor country. According to our guide, most people only make $400 a month and many people are living at a bare subsistence level. As you drive through the country the poverty is apparent, and we had many lively dinner conversations discussing the local situation and what is being done to try to improve the situation, including the fair-trade coffee business and micro-loan programs.
Also, the U.S. State Department currently has a travel advisory in place for Honduras due to the high level of crime and violence. But the local government has been working to turn it around, and you'll see armed guards everywhere you go, which is a little jarring, but we always felt very safe on our trip. Everyone was very friendly, and we didn't even encounter any aggressive panhandling.
Tourism dollars bring an influx of cash and create good jobs, and ecotourism means the land can become more valuable as a preserve than being stripped for its natural resources. The Lodge and Spa at Pico Bonito has an excellent staff of naturalists that advocate and educate for the importance of the continued preservation of the land. It was an eye-opening trip, and in the end, I felt that our tourism dollars did help to make a difference.
For more information about The Lodge and Spa at Pico Bonito, or to book a trip, visit PicoBonito.com. Make sure to look for family packages and shoulder-season deals, too.
NOTE: There is an ongoing Zika threat for all of the Caribbean, including Central America and South America, and the CDC is warning pregnant women and their partners and couples trying to conceive to stay away for now or to take significant precautions.
Top image: The Lodge and Spa at Pico Bonito. Photo by the author.
Click Here to Sign Up!
i