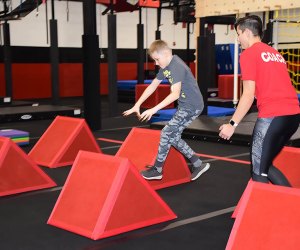 Master Obstacles at Real Life Ninja Academy
At Real Life Ninja Academy in Freeport, swinging from the ceiling and climbing walls is very much encouraged. Co-owned by 'American Ninja Warrior' Champion Drew Drechsel, the course mimics the television show's obstacles, including two warped walls and the red, horn-blaring finish buttons.
For more active fun on Long Island, check out our guide to play gyms and sports centers.

Kids will be challenged by the pro ninja staff with fun obstacle training.
OUR LATEST VIDEOS
Children ages 5-14 learn how to analyze, improve and approach obstacles — all skills that are helpful in other areas of navigating adolescence. Their unique facility is custom designed to be fun and challenging, teaching the sport of ninja while boosting physical and mental strength. Kids classes and camps are geared towards learning the basics of agility, flexibility, and balance and building those skills over time. Obstacles include salmon ladders, jumping spiders, box jumps, floating steps, rings and much more.
Teen/adult and advanced one-on-one classes teach more techniques to prepare folks serious about competition. In fact, most of the staff and several students have competed on Ninja Warrior and Ninja Warrior Junior competitors.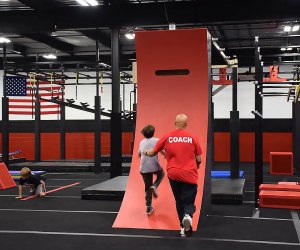 Learn the real sport of Ninja in a fun in an encouraging, and structured environment.
The staff at Freeport's Real Life Ninja Academy plan on starting up Real Life Ninja Academy teams soon. These teams usually practice more than once a week and really push ninjas to new heights.
At Real Life Ninja Academy birthday parties, kids are safely escorted through obstacles for one house and given the separate party room for about 40 minutes. While they don't offer food and drinks, they have partnered with nearby pizzeria and sandwich shop for killer discounts.
Real Life Ninja Academy is located at 272 Buffalo Ave., in Freeport. Conveniently located behind a BJ's Wholesale Club, in case mom or dad wants to get some grocery shopping done while ninja class is in session.
Photos by the author