Coding Classes for Kids On Long Island: In-Person and Virtual Options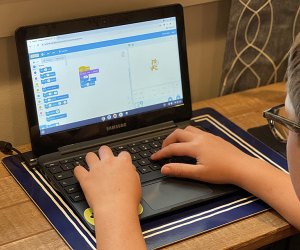 Coding, or the act of telling a computer what you want it to do, is exploding in popularity. While it may seem like a complicated endeavor, many local venues now offer coding classes for kids on Long Island.
Learning coding skills is a win-win for families. Kids can use their creativity and the latest tech to create their own video games. Parents can appreciate the STEM skills they're building, plus life skills like problem-solving that come from breaking down complex problems into smaller tasks. We've found eight local orgs that offer coding classes for kids, with a mix of virtual and in-person classes.
Find more enrichment activities in our guide to Classes and Activities for Long Island Kids.
Subscribe to our newsletters to get stories like this delivered directly to your inbox.
Where to Find In-Person Coding Classes for Kids on Long Island
Headquartered in Silicon Valley, The Coder School has locations across the country, including three Long Island outposts. No matter the location you choose, your child gets the same personalized instruction from experienced coders. Parents can track their child's progress in coding classes through the company's proprietary app.
This North Shore Jewish Community Center offers more than just fitness classes. The East Hills location hosts after-school enrichment programs, including project-based coding classes. You don't need to be a member enroll in coding classes here, and transportation is available for kids in the Roslyn School District.
Code Ninjas – Syosset, Floral Park
If your child loves Roblox and Minecraft, Code Ninjas could be the perfect fit. Kids learn to code by creating their own video games. The Floral Park and Syosset locations both offer drop-in hours on weeknights and weekends to accommodate busy schedules.
Kids can learn about coding and technology through several courses taught on weekends at Hofstra. Whether it is the "Roblox Creators Club" for kids in grades 2 to 6 or "Introduction to Video Game Design" for grades 4 to 9, students will leave with better problem-solving skills and a greater understanding of technology. Keep an eye on the schedule for future offerings, too; summer classes included heavy-duty coding classes in Python for older kids.
Local Libraries – Island Wide
With the benefits of learning to code, it's no surprise many local libraries now offer coding classes for kids, most of which are FREE. Check your library's website to see what programming is offered.
Online Coding Classes for Kids
Whether you are looking for one-on-one instruction or group classes, ID Tech has instructors ready to help your child learn. The company has been teaching kids for more than 20 years and prides itself on its top-notch teacher vetting process. Its coding classes are currently all online. However, it plans to offer in-person summer camps at Adelphi and Stony Brook universities in 2022.
Kids ages 8-18 can participate in one-on-one, project-based online coding classes through Juni. The company offers courses in Scratch and Python, both of which allow students to progress at their own pace.
In this fully online program, kids learn ​​basic and advanced computer and programming skills. Code Galaxy offers tutoring, as well as small-group classes and camps to get your kids coding.
Looking for more options? See our roundup of FREE and cheap websites that teach kids programming.