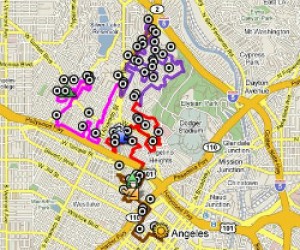 Explore LA on Foot with The Big Parade
Walking in LA? Don't believe the song—people really do walk in LA. And if CicLAvia is one of your family's favorite events, then The Big Parade (Saturday, May 2-Sunday, May 3, 2015) is something worth checking out. The Big Parade is not a race—it is about exploring, learning, and celebrating everything our city has to offer. And, with The Big Parade, no one is ever left behind.
The Big Parade takes place the weekend of May 2-3, 2015, with a northeast LA prologue on Friday, May 1. Families can participate in as much—or as little—as they choose. The full route goes from downtown to the Griffith Observatory, 35 miles in two days, and is split into sections with scheduled meet-up times and places.
Note that the details that follow are still approximate. Official times and locations are released the day before, and even then remain somewhat loose.
Special activities include the Saturday stroller-friendly Children's Loop, a Saturday night movie screening, live music by Gabriel Kahane, poetry performances, and picnics. Each day includes one 5-mile Main Loop, which has the most variety of that day's choices. Several loops are available on both Saturday and Sunday. Choose your loop based on its location, length, music, activities, or scheduled time. There are also surprise guests, music, and/or activities each day. Be sure to bring food, water, and sunscreen!
The activities and times below are part of the preliminary schedule. The finalized schedule is posted on The Big Parade website on Friday, May 1. Public transit options are included on the website schedule as well. What follows is an approximate schedule, very much subject to change (please check the official schedule before heading out!):
Saturday, May 2
8:30am, Grand Park
All-of-Downtown Loop, urban planning themed, with lots of stairways. (5.5 miles, 2 hours)
Grand Park Mini Loop, a shorter version and stroller-friendly (with help on any stairs). Finishes by the fountain (2.5 miles)
10am, Vista Hermosa Park
• Ugly Buildings and Pretty Parks Loop (2.5-4 miles, round trip)
11:30am, Echo Park
Echo Park is the heart of stairway-rich Los Angeles, and the heart of The Big Parade. (5.7 miles)
4pm, South of Sunset to Silver Lake.
Includes a loop around the almost-refurbished Echo Park Lake. (2-4 miles)
6pm, Micheltorena Community Garden (corner Sunset Blvd. and Micheltorena St.)
Community Pot Luck and Photo Exhibit.
Sunday, May 3
8:30am, Music Box Stairs, Laurel and Hardy Park, 925 Vendome Street
Walk to main loop start (1 hour)
9:30am, La Mill Coffee 1636 Silverlake Boulevard
Main Loop, Silver Lake history and architecture, including remnants of LA's original mass transit system and a lovely stairway. (4 miles, 3.5 hours)
1pm, Silverlake Rec Center, 1850 W Silverlake Boulevard
Lunch and live music, main loop ends here.
Parade continues through West Silverlake. (approx 2.5 miles)
3pm, Casita del Campo Restaurant, 1920 Hyperion Avenue
Franklin Hills; 14 stairways in 2 miles
4:30pm, Los Feliz Municipal Golf Course.
The town and country leg; Frank Lloyd Wright, Griffith Observatory. (2.4 miles, 1 hour)
7pm, Arrive Griffith Observatory
Stay for the sunset. Return options will be discussed.
The Friday prologue is a 12-mile hike along the LA River paths. Be sure to see The Big Parade's web page or Facebook page if your family is interested in this hike.
Originally published May 12, 2013.