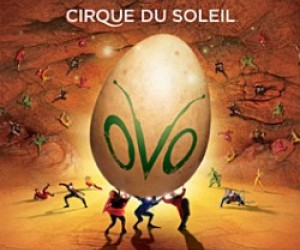 Cirque du Soleil: OVO - Review for Families
If you're on a quest to see how many times you can get your kids to say, "Wow!" in a two-hour period, take them to see Cirque du Soleil's OVO at the Santa Monica Pier - they'll break all previous records. In fact, allow us to make it easier for you: even though we've already given away a family four-pack of tickets to see OVO, now that we've seen for ourselves what a fabulous show for kids it is, we're giving away another set of four tickets to the February 1 performance! Read on to see how to enter!
Whether you've seen Cirque du Soleil shows yourself or just heard others rave about them, you probably know to expect impressive physical feats, theatrical music, and lavish costumes. It's all true - but while some Cirque shows have moments that get a little scary or even bawdy, OVO is joyously kid friendly. The performance looks like some kind of grand insect Mardi Gras, with exotic contortionist spiders, butterflies springing from cocoons of aerial silks, and crickets literally bouncing off the walls. There are a few dramatic music and lighting cues, and one stick bug on stilts seems momentarily to have ill intent for a mosquito (rescue comes quickly), but everything else is smooth sailing for little ones.
The show runs two hours, plus a half hour intermission (and be warned that there is a large and tempting Cirque Marketplace open during the break). Parking is available in the adjacent lot for $8, on the Pier for $10, or in any of the city lots for $3 after 6pm. Cirque du Soleil's limited engagement at the Pier is scheduled from January 20-March 25, 2012.

We're thrilled to be hosting another family of four for free to see Cirque du Soleil: OVO at the Santa Monica Pier (with great seats!) on Wednesday, February 1st at 8:00pm - a prize worth $283!
How to Enter: This giveaway closed on January 31, 2012.