Fall Treats: Best Apple Cider Doughnuts in Lower Hudson Valley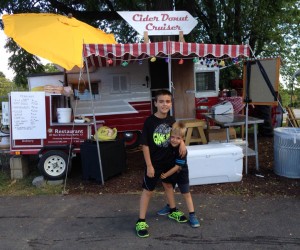 What's one of the best parts of apple picking in the Lower Hudson Valley? Apple cider doughnuts. Whether you like them cakey or fluffy, sugary or plain, we dare you to find a better seasonal treat than a warm cider doughnut directly out of the fryer. We're not sure there's such a thing as a bad cider doughnut, but we've selected some of our extra-special favorites in the area. Be sure to check out our choices for the best places for fruit picking in Westchester and in Orange and Dutchess, as well as our Fall Festival Guide!
Soons Orchard – New Hampton
The doughnuts at Soons are of the cakey variety—a little denser than some of the others on this list—and they're perfectly matched with its infamous homemade apple cider. Soons also has U-pick fruit picking and a farm market.
Ochs Orchard – Warwick
With its very own "Apple Trail," Warwick has no shortage of selections. Apple picking at Ochs is a family tradition, and we always complete the day with homemade ice cream and one of its extra-light and extra-fluffy doughnuts. Unfortunately, we're not the only ones with such a tradition, so don't be surprised if there's a line waiting for a fresh batch.
Pennings Farm Market – Warwick
The doughnuts from Pennings don't short-change you on the cinnamon sugar, making them a favorite with my boys. Pennings even has a mobile doughnut cart out front on the weekends (pictured above), increasing the chance you'll get one fresh out of the fryer. While you're there, you can pick fruit, feed the animals or have a pint in the outdoor beer garden.
Jones Farm – Cornwall
Why be limited to one type of cider doughnut when you can have, well, more? Jones offers plain, cinnamon sugar and plain sugar doughnuts, and it also has its own apple cider doughnut bread pudding available. (I sense a comparison taste-test opportunity.) If you're worried about them running out—mornings are your best bet to snag some—you can always place an order in advance.
Salinger's Orchard – Brewster
This was a frequent fall favorite of ours when we lived in upper Westchester. The cider doughnuts here are worth the trip (as are the pies), and you can choose plain or cinnamon sugar. Doughnuts are made every day, typically several times a day on the weekends.
Adams Fairacre Farms and Stew Leonard's – Multiple Locations
Yes, these are both supermarkets, but we put them on the list for convenience's sake. (Plus, if you've ever been to either place, you know these aren't your average Shop-Rites.) Both Adams and Stew Leonard's make their own cider doughnuts and/or doughnut holes on site, and it's an easy way to bring home the best fall dessert when you're rushing to grab dinner fixings.