WeeWork Kids Recipes: Ample Hills Bananamon Ice Cream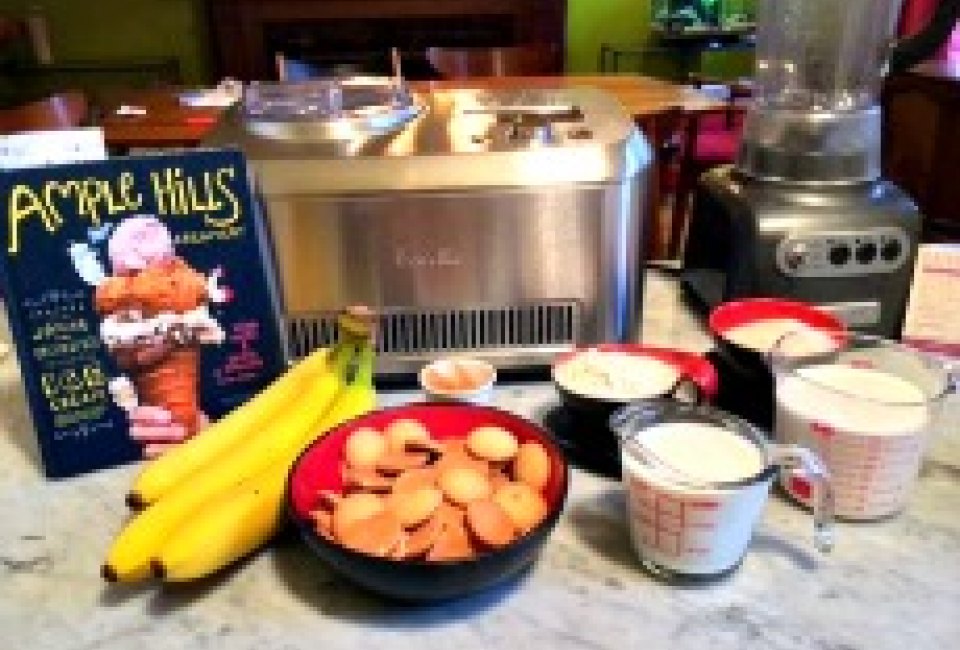 4/24/14
- By
Anna Fader
Making ice cream is one thing everyone can participate in and enjoy. That's certainly what the folks at Ample Hills Creamery in Brooklyn believe. Since starting their local ice cream shop, they've included the entire family in the ice cream making process. Their kids help break cookies, mix ingredients and of course taste and create new flavors.

Read on as Nonna Kai and Kaleo, the children of Ample Hills Creamery co-owner Jackie Cuscuna, teach us how to make Bananamon ice cream, one of their favorite flavors. With fresh ripe bananas and cinnamon it appeals to both kids and adults.
1. In a blender combine 1½ cups of whole milk, ¾ cups of skim milk powder, ¾ cups of organic cane sugar, 1½ teaspoons of vanilla extract, 1¼ teaspoons of ground cinnamon and 1 pound of ripe bananas and blend until smooth (Our kids take turns adding the ingredients). Transfer the mixture to a bowl and add 2 cups of heavy cream.
2. Transfer the base to an ice-cream maker and churn it according to the manufacturer's instructions.
3. Break approximately 25 vanilla wafer cookies into quarters. Transfer the ice cream into a storage container folding in the cookie pieces as you go. Serve immediately or harden in your freezer for 8 to 12 hours for a harder, more scoopable ice cream.
Find this Bananamon recipe and many more delicious treats in Ample Hills Creamery: Secrets & Stories From Brooklyn's Favorite Ice Cream Shop. If you don't have an ice-cream maker, you can whip the ingredients in a blender or mixer and then freeze, or just pour it into Popsicle molds to make ice-cream pops instead.
Have you made one of our WeeWork projects? Share it on Facebook, Twitter or Instagram and tag @mommypoppins so we can see your creations, too!
Kids' work is to play. WeeWork is a Mommy Poppins series offering an easy daily activity for grown-ups and children to do together, making kids' work an important part of your day. We aim to inspire together time, creativity and fun using only your imagination and things around the house. You can see all our WeeWork activity posts here.
Sign up to get WeeWork activities delivered to your inbox.

Sign up for our free
newsletters.
Mommy Poppins is a family activity website that helps people find things to do with kids.
©
2023
MommyPoppins. All Rights Reserved.
mp-prod4-v4.32.99
Click Here to Sign Up!
i