Great News! Philly Spraygrounds and Playgrounds Are Reopening for Summer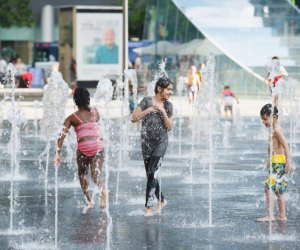 Philly families, rejoice! In what might be some of the best news of the season, playgrounds, spraygrounds, and splash pads around Philadelphia have been given the green light to reopen. Philadelphia officials announced the upcoming reopening of the area's spraygrounds on Monday, June 8.
The city's public swimming pools won't reopen in 2020 due to precautions over the coronavirus health crisis, but spraygrounds can reopen July 6, offering a spot for kids to cool down during summer's heat. Philly playgrounds are already open under the city's Safer-at-Home phase yellow. Read on for details and check out what else is reopening in the Philly area.
Philadelphia Spraygrounds Reopening Info
The Philadelphia Parks and Recreation department operates 91 spraygrounds and splash pads. They won't all open at once, but the city plans on reopening the summertime favorites on a rolling basis from July 6, 2020, onward. The exact schedule, as well as updates to operating hours, will be released the week of June 29.
Because the city is still in the yellow phase of reopening, Philly families can expect continued restrictions in place to help slow the spread of COVID-19, including a 25-person limit and maintaining 6-feet of distance between visitors not in the same household. Park staff will be on-site at the city-run spraygrounds to enforce rules, officials said.
New Rules for Philadelphia Parks and Playgrounds
The Parks and Rec department has already reopened the city's playgrounds, which are open to individual households and for official city programming, such as summer day camps. Unofficial group gatherings are prohibited.
Note that restrooms, buildings, and athletic courts remain closed. Beginning on July 6, playground equipment is reserved for summer day campers from the hours of 9am to 3pm every weekday. So plan your visit accordingly and browse the Philly Parks and Rec website for updates.
As more information becomes available, we'll share updates on Mommy Poppins Philadelphia. Sign up for our free newsletter to get all the fun family happenings in Philly delivered right to your inbox.