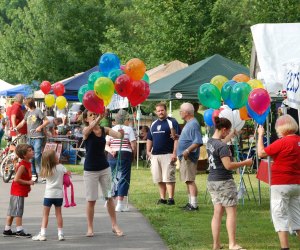 25 Festivals, Fairs, and Carnivals for Philly Families this July
Kutztown Folk Festival- Kutztown, PA
July 1-9, 2017
The Kutztown Folk Festival is a week full of entertainment for families. Held at the Kutztown Fairgrounds, this festival features a wide variety of Pennsylvania Dutch food, folk artists, traditional American craftsmen, antiques and collectibles, entertainment, music, dancing, and a wide range of children's activities.
Freedom Fest- Nottingham, PA
July 1, 2017
Celebrate the good 'ole U.S. of A at Nottingham County Park. Guests can expect family-friendly games and some country tunes from "On the Rise" followed by fireworks to light up the night sky.
Art Splash Family Festival- Philadelphia, PA
July 2, 2017
Celebrate the arts at the Philadelphia Museum of Art. Guests can expect to see the exhibit, Wild: Michael Nichols as well as participate in a sing along with Frances England.
Norco Fire Company Carnival- Pottstown, PA
July 3-8, 2017
Play games, ride amusements, and enjoy carnival food at the Norco Fire Company Carnival.
Good Neighbor Day- Downingtown, PA
July 4, 2017
Enjoy the entertainment all day long at Kerr Park. The day includes bike-decorating, canoe races, 5K, 10K, 15K, and kids' fun run, food, carnival rides, and games. The day concludes with fireworks set to begin around dusk.
Southampton Day- Southampton, PA
July 4, 2017
On July 4th, Southampton Day begins with a parade and flag raising ceremony. Later in the day, guests can enjoy music, rides, games, and fireworks.
Collingdale Fire Company Carnival- Collingdale, PA
July 4-8, 2017
Rides, games, and food await visitors to the Collingdale Fire Company Carnival.
Blueberry Festival- Media, PA
July 8, 2017
Get ready for delicious blueberries and entertaining music from Makin' Music at Linvilla Orchards.
BlueBeary Blast & Celebrate New Jersey- Camden, NJ
July 8-9, 2017
Camden Children's Garden invites visitors to celebrate the great state of New Jersey and its official state fruit, the blueberry with a weekend of family fun.
Hispanic Fiesta- Philadelphia, PA
July 8-9, 2017
As part of the PECO Multicultural series, the Hispanic Fiesta held at the Great Plaza at Penn's Landing features dance, music, and food celebrating the Latino culture.
Pennridge Community Day- Perkasie, PA
July 9, 2017
Water balloon tossing, watermelon eating, hay-riding, and magic show watching await families visiting Lenape Park.
Petapalooza- Chestnut Hill, PA
July 9, 2017
Celebrate pets at this special festival for furry creatures and their favorite humans. If your family is looking for a pet, a variety of rescue organizations will be attending with animals looking for their forever home.
Malvern Fire Company Carnival- Malvern, PA
July 11-15, 2017
The Malvern Fire Company takes much pride in the service it provides for the community. Come support their organization while enjoying traditional carnival rides, games, and food at Monument Memorial Grounds. Be sure to see the firework display on July 14th.
Bastille Day Festival- Philadelphia, PA
July 15, 2017
"Let them eat Tastykakes," shouts Marie Antoinette at Eastern State Penitentiary.
Tie Dye Music Festival- Wallingford, PA
July 15, 2017
Bring a blanket or chair and find a spot to listen to live music. Then, participate in a variety of tie-dye fun at the Community Arts Center.
Bluegrass and Blueberry Festival- Lahaska, PA
July 15-16, 2017
When the twang of bluegrass music meets the sweet taste of blueberries, you have Peddler's Village's Bluegrass and Blueberry Festival!
Turks Head Music Festival- West Chester, PA
July 16, 2017
Regional bands perform all day at Everhart Park.
Kennett Athletic Booster Carnival- Kennett Square, PA
July 18-22, 2017
Come out to Kennett High School located in the Mushroom Capital of the World and help support the community at this fun fest including traditional carnival rides, games, food, and more. Plus, purchase your unlimited ride armbands through July 18 and get $5 off per band.
Burlington County Farm Fair- Springfield Township, NJ
July 18-22, 2017
Less than an hour from Philadelphia, the Burlington County Farm Fair is celebrating its 70th year of New Jersey fun. Kids love the pony rides, Farmer for a Day Project, scavenger hunts, and other activities throughout the event. Also, traditional festival food and amusement rides are available for the whole family. All proceeds benefit the Burlington County Farm non-profit organization, which supports agriculture, social life, and youth in the community.
Midway Fire Company Carnival- Lahaska, PA
July 20-29, 2017 (select days)
The members of the Midway Volunteer Fire Company have been providing fire protection and rescue services to the communities of Buckingham and Solebury since 1931. Make a day of exploring Bucks County and then enjoy traditional carnival rides, games, food, and more.
Kidchella- Philadelphia, PA
July 21, 2017
Held the third Friday of the month, Smith Memorial Playground gets set to jam to kindie, folk, jazz, R&B, Latin, pop, and rock music. The festival is a rain or shine event.
Sweet Corn and Blackberry Festival- Media, PA
July 22, 2017
Get ready to listen to entertaining music from performer Silly Joe and musical group The Ultimates while sampling sweet corn and blackberry treats.
Islamic Heritage Festival- Philadelphia, PA
July 22, 2017
Visit the Great Plaza at Penn's Landing for this cultural festival which is part of the PECO Multicultural Festival Series.
Annual Beekeeping and Honey Festival- Bryn Mawr, PA
July 22, 2017
Co-sponsored by Riverbend Environmental Educational Center and The Harriton Association, this Beekeeping and Honey Festival allows visitors to Harriton House the chance to learn about honey bees, their habits, and the delicious liquid gold they produce.
Sweet Corn Festival- Robbinsville, NJ
July 22-23, 2017
Covered in butter, roasted, or grilled, nothing says summer better than corn on the cob. Participate in a corn on the cob eating contest, take a wagon ride, make sand art, and more. Please note that there is no U-Pick during the festival.
Kimberton Community Fair- Phoenixville, PA
July 24-29, 2017
The Kimberton Community Fair has been held annually at Kimberton Fairgrounds since 1929, and it now features rides, games, food, 4-H livestock competitions, agricultural exhibits, free entertainment, fireworks, and more. Feel good about having fun times at this festival because proceeds benefit the Kimberton Fire Company.
Cochranville Fire Company Carnival- Cochranville, PA
July 26 -August 5, 2017 (select days)
Take a drive out to southern Chester County to enjoy the farms and rolling hills. Then spend an evening enjoying carnival rides, games, food, and more at the Cochranville Fire Company.
Car Show & Street Festival- Philadelphia, PA
July 30, 2017
Walk along the avenue and see the variety of cars on display. Be sure to stop by the Kid Zone for face paint and moonbounce fun.
Photo courtesy of Good Neighbor Day.