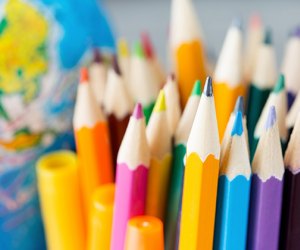 Five Great Writing Classes For Kids On Long Island
Writing is an excellent way for kids to develop their communication skills, build imagination, and to learn how to process information and ideas. Enrolling in a writing class provides a gateway to academic success, as well as building confidence and offering a creative outlet. Long Island is home to many wonderful schools that offer both skill-based and creative writing programs for young students. With an amazing variety of genres represented, all budding writers find courses to suit their needs. For additional class suggestions, see our Classes and Activities Guide for Long Island Kids.
East End Arts School
141 East Main Street
Riverhead, NY 11901
631-369-2171
East End Arts School is known for its excellent drama, music, and art classes, but writing is an important component of many of its programs. Courses such as One-Act Co-Creations allows kids to explore the play writing process by creating one-act plays, which are performed by their peers. This is a wonderful hands-on experience that encourages collaboration and makes publication very real, as students witness their piece come alive at the end of the course. [This class is not currently offered. Check the website for the latest schedule]. Programs are available for kids ages 5 years and up.
Hofstra University
1000 Fulton Avenue
Hempstead, NY 11549
516-463-7200
Hofstra has a number of writing courses available through its Saturday Classes for Young People series. W.A.R.M. (Writing, Arithmetic, Reading, and More) winter classes are beneficial for children struggling with grammar or in need of academic support. There are also various courses that develop beginning writing skills, as well as creative writing classes for aspiring authors. Programs are offered for children ages 5 years and up.
Panetta Creative Studio
755 Park Avenue, Suite 190
Huntington, NY 11743
917-796-2537
This studio is founded by bestselling author and former New York Times correspondent Lisa Pulitzer, and Susan Panetta, former creative director of New York's Lincoln Center. Programs are offered for all ages and disciplines, but the focus is on writing and art classes for children and teens. These engaging courses foster self-esteem by encouraging children to use their imaginations throughout the creative process. Classes vary season to season but offerings include storytelling, creative writing, and journalism. The studio also publishes two books of students' work every year, as well as its own newspaper.
St. John's University
500 Montauk Highway
Oakdale, NY 11769
631-218-7800
The Reading and Writing Education Center helps diagnose reading and writing problems in elementary and intermediate grade students. The center works one-on-one with children to help them overcome these literacy difficulties. The supplemental courses help children build their reading and writing stamina, which helps them succeed at school. Registration is on an ongoing basis. Visit the website for more information. Note: The Center closed permanently on June 30th.
St. Joseph's College
155 West Roe Boulevard
Patchogue, NY 11772
631-687-1243
Creative writing is one of the many programs offered for kids. The classes focus on allowing students to discover their own talents, by exploring topics beyond the scope of the general education curriculum. The classes provide additional support to struggling kids, as well as offering supplemental experiences for advanced students. Classes are available for middle and high school students. All courses are taught by New York State certified teachers.
Originally published on 9/19/12. Updated on 7/29/14
Photo via Bigstock