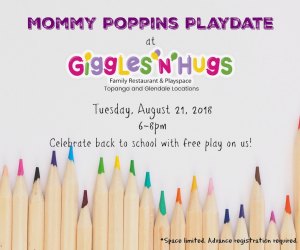 Free Play at Giggles 'n' Hugs!
Mommy Poppins and Giggles 'n' Hugs are teaming up again! On Tuesday, August 21st, it's time for a Mommy Poppins Playdate at Giggles 'n' Hugs. We invite you to enjoy free admission at either Giggles 'n' Hugs location (Topanga Canyon or Glendale), from 6pm-8pm.
Never been to Giggles 'n' Hugs? It's a great spot, whether you're looking to plan the perfect no-stress birthday party, enjoy a healthy family meal, or just chill out for an afternoon in the action-packed, 2000-square-foot playspace. The best part is it's as enjoyable for adults as it is for kids, because while little ones play, grown-ups can enjoy a coffee, glass of wine, or locally-sourced, organic meal.
Space is limited, so you must register in advance.
Special for Mommy Poppins subscribers:
Save 10% on any Giggles 'n' Hugs Party Package!
Call 818.956.4847 to speak to a party planner, or start planning your party online at gigglesnhugs.com.
Valid August 21, 2018 - September 30, 2018
Use code: MommyPoppins
Giggles 'n' Hugs Topanga
6600 Topanga Cyn. Blvd. #2008
Canoga Park, CA 91303
Giggles 'n' Hugs Glendale
3222 Glendale Galleria Way
Glendale, CA 91210