The Inn at East Hill Farm: A Blissful Family Farm Vacation in New Hampshire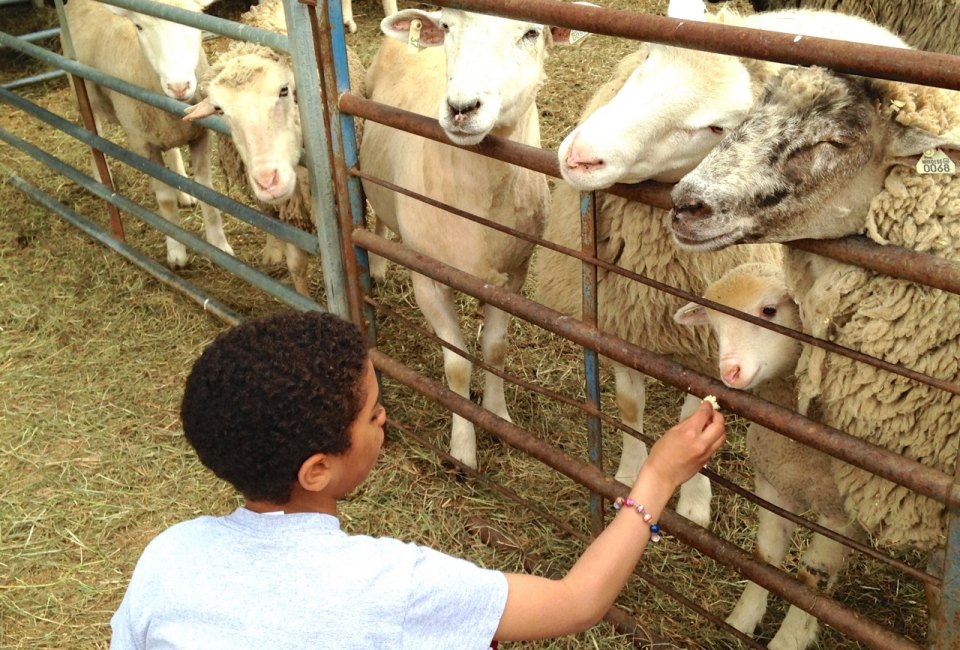 6/19/15
- By
Tara D
The Inn at East Hill Farm is a special place. It combines hands-on learning at a working farm with all the fun of sleepaway camp and the blissful convenience of an all-inclusive resort.
Nestled in the Mount Monadnock Region of New Hampshire, the resort has views that go on forever and a relaxed, when-you're-here-you're-family vibe. There are activities galore and all meals are included, so you won't need to go anywhere else during your stay—and I'm guessing you'll be happy to leave the car parked, let someone else do the cooking, and focus your energy on having a ball with your kids.
The staff was warm, friendly and wonderfully accommodating from the moment we checked in until our reluctant departure. After a quick orientation tour, we made ourselves right at home in an exceptionally spacious cottage and then headed to the dining hall for small bites and evening cocktails served with a smile. And so it began: A wonderful weekend of unfurling delights, from eating hearty meals to spotting owls in the woods.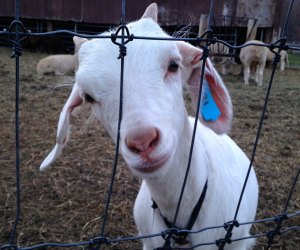 Kidding around on the farm.
---
The farm is the main attraction, of course. The kids' eyes widen in wonder when they see horses and cows up close and pet the bunnies in the barn. Adventurous children can help the farmers milk the cows and goats each morning and maybe even learn to make cheese. For my kids, the highlight was feeding the goats and sheep (which was downright comical at times) with leftover bread from the dining hall. Initially, they were a bit reluctant to gather eggs for breakfast from the chicken coop, but then one of the hens nudged her freshly laid egg over to my tentative son, and that's all it took for him to get comfortable and become an egg-gathering champion.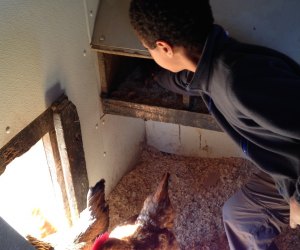 ---
If you enjoy having heaping plates of comfort food brought to you by friendly, eager-to-please waitstaff, you'll be delighted with the eats at The Inn. Three meals a day are included in an overnight stay, plus bottomless drinks and home-baked cookies at any time. The Inn's employees are phenomenally accommodating when it comes to food restrictions and allergies—they do gluten-free better than any place we've ever stayed. Tip: If your room has a fridge, ask for a to-go container and save some of your meal for a midnight snack (or for when the kids are up at dawn).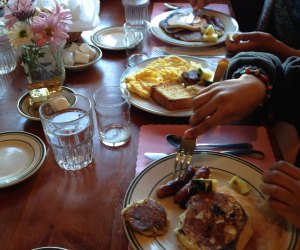 If you bring your fresh eggs to the table at breakfast, the staff will cook them to order. Now that's farm to table.
---
Beyond all the farm fun, we were blown away by the variety of activities offered. In warmer months, sporty types can enjoy basketball, tennis, swimming, water-skiing and volleyball. Nature lovers can take a walk in the woods and visit the duck pond, go for an easy hike around Perkins Pond, take it up a level on Gap Mountain or, if they're really ambitious, climb Mount Monadnock. There are naturalist-led programs (we got to see owls!), arts and crafts, storytimes and activities just for teens. Take your kids out on a paddleboat, challenge them to a Ping-Pong match, try your hand at shuffleboard or just cozy up with a good book from the Inn's leave-and-take library.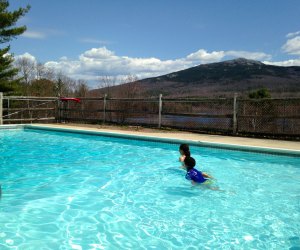 A pool with a view
---
The lodging options—from the main inn to outlying cottages—are all great, but I recommend one of the cottages for families looking for a little extra room and privacy. We stayed in the spacious English Cottage, which has two bedrooms and bathrooms with their own entrances, separated by a lovely sitting room with a fireplace. Best of all, the cottage has a wraparound screened-in porch with a gorgeous view of Mount Monadnock. Pure bliss.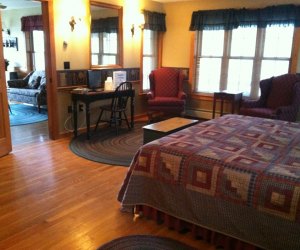 The King bedroom in the English Cottage, leading into a living room and another bedroom with three twin beds: more space than we have at home!
Although The Inn at East Hill Farm is perfect for a weekend family getaway, we could have easily stayed a week without getting bored. If you can't get a room or you're looking for the ultimate day trip, a day pass is a nice alternative. You can even drop in just for a meal, which will give you plenty of time to explore the Monadnock Region's other offerings.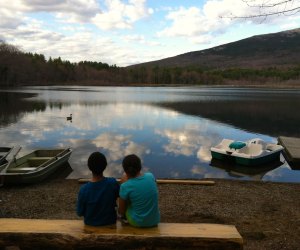 Life is good at East Hill Farm.
---
The Inn is the kind of place you'll want to return to year after year. The hard part is deciding which season to visit. We loved the peacefulness and new life on the farm during our springtime stay, but there's something wonderful on offer during each season: Campfires, swimming and water-skiing in summer; breathtaking foliage and hayrides in fall; and warming up by the fire after snowshoeing, ice-skating or cross-country skiing in winter. My family is already dreaming of our next getaway to The Inn at East Hill Farm.
---
The Inn at East Hill Farm | 460 Monadnock St., Troy, NH 03465
603-242-6495 | for reservations: 800-242-6495 | email
Places featured in this article:
---
The Inn at East Hill Farm
Click Here to Sign Up!