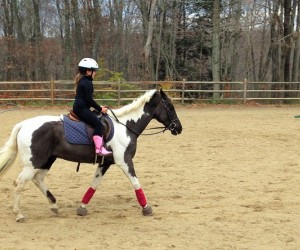 Horseback Riding Lessons and Camps in Hartford County
Before we know it, another school year will end, and children and parents alike will seek activities to fill their summer days. The Hartford area is home to many attractions, playgrounds, and museums, but sometimes, none of those will quench a child's thirst like a gallop on a horse. Yes, a horse! Fortunately, just like in Fairfield County, there are plenty of Hartford County farms and stables that cater specifically to young riders, offering lessons for all skill levels and also summer riding camps.
My family does not live on a farm, nor can we afford to own equine friends, so my horse-crazy girl had to settle for second best: riding lessons. There is no denying that these lessons can cost a pretty penny, and yes, after the first one your child will probably ask for more, but that's a good thing and here's why: horse riding benefits children physically, emotionally, and socially. I don't have research to cite, but here is what I have witnessed: a high-spirited girl who has found her match.
Ask my daughter what she likes about riding, and she'll squeal: "It's fun! Sooooooo much fun." Indeed, her enormous smile after every jump, and the way she pushes her cheek into the horse's shoulder as she hugs him at the end of each session testify to her joy. She also likes "how cool" it is to have a "giant" for a friend, and takes pride in brushing and tacking him.
So, without further ado, here are a dozen riding places in Hartford County where children can become cowboys or cowgirls (or royalty!) prancing on a horse. Clicking on the name of each farm will take you to its website, where you can find additional details about pricing, summer camp schedules, or contact information.
Vaquero Training Center
Children can begin riding here as young as 4 years old. The Center works with different disciplines, including Western Pleasure, Reining, Dressage, and Hunter.

7 Cemetery Road, East Windsor 860-623-2687
Maple View Farm
Private lessons begin at $35. Open Ride sessions allow children to ride alone, only with parental supervision; $35 for three hours. Summer sessions for pre-schoolers and grade-schoolers are offered in July and August.

192 Salmon Brook Street, Granby 860-655-2036
Hillside Stable
Lessons at $40 an hour for beginners and intermediate students are offered in English or Western riding. Pony rides for $5 per person. Summer day camps run from June through August.

524 Bell Street, Glastonbury 860-748-1894
Beacon Woods Stables
Offers individual lessons,boarding, and indoor/outdoor riding rings.

91 Beacon Woods Lane, South Glastonbury 860-430-2606
Full Circle Farm
Lessons catered to all abilities begin at $45 for half an hour of private time, or $50 an hour for group lessons. Summer riding programs for ages 6-16 are offered in June and July.

719 Birch Mountain Road, Manchester 860-465-6913
Folly Farm
Group lessons begin at $50 and private lessons cost $75. Summer programs for ages 4 and up are offered June through August. Students are divided by age group.

75 Hartford Road, Simsbury 860-658-9943
The Strain Family Horse Farm
Riding lessons in all disciplines, from beginner to advanced. Summer programs for ages 5 and up are offered June and July.

30 Sakrison Road, Granby 860-653-3275
Avon Valley Show Stables
Offers English Hunt Seat instructor for riders of all ages, beginner to advanced. Packages are available as 30 minute private sessions, or one hour group (3 or more riders). Pricing begins at $45 per lesson. Offers a Pony Pals program for ages 4-6 and summer sessions through age 15.

595 Waterville Road, Avon 860-677-5260
Oakendale Farm
Lessons in Dressage, Eventing, Hunter Seat Equation and Jumping for riders of all levels. Preschool riding program caters to children ages 3-5. Summer camp offered in July and August.

315 Shrub Road, Bristol 860-314-9514
Oak Meadow Farm
The riding school runs on a 13-week semester schedule comprised of 12 weeks of lessons. New customers can participate in a three-lesson $135 introductory package. Each private lesson is half an hour.

309 Scantic Road, East Windsor 860-292-8578
SpiritHorse Therapeutic Riding Center of Canton
Specializes in working with children who have special needs. The ponies and horses housed here can lead from wheelchairs, walkers, and canes.

174 Morgan Road, Canton; spirithorsect@yahoo.com
Well-Away Farm
Lessons for all ages and various riding levels. $50 per lesson. Summer riding offered June through August.

120 Terry's Plain Road, Simsbury 860-651-7284
Wherever you choose to go, saddle up, have fun, and let horses become a wonderful addiction.
Originally published 4/20/15.