10 Tips to Organize a Community Easter Egg Hunt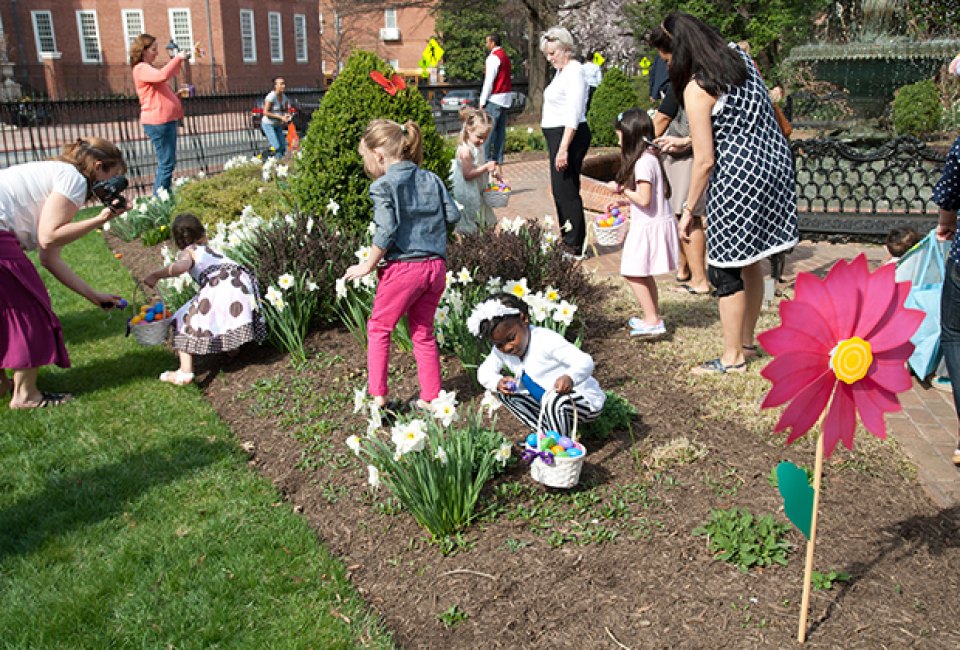 3/22/17
- By
Lindsay Li
When my son was nearly two, I was excited to start new traditions, especially around the holidays. And while it was easy to come up with activities for us, like decorating Easter eggs, I had a hard time finding an Easter Egg Hunt that I felt would be age appropriate for him. I knew he wouldn't quite get the point of the hunt, and might even possibly be trampled by older kids. I also wanted a tradition that we could count on year after year, creating a lasting and memorable experience.
I didn't grow up with local Easter traditions, and occasionally times like the holidays make it harder to feel connected. So I decided to do something about it. I organized a neighborhood hunt for my son and the other toddling tots I've grown to know and love from neighborhood mommy meet-ups. The egg hunt has been such a hit that we have repeated it every year, and each year we've found more ways to make it special and grow the participation into a true neighborhood event where we all make new friends, build memories, and enjoy some true village parenting.
So, here are my 10 tips and tricks for organizing a great, easy community Easter egg hunt!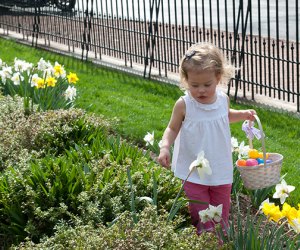 1. Find a good, preferably gated, community space. Whether it is someone's very large yard or a local community garden (which may be maintained by a neighborhood development group, so you might have to inquire around for use or permits depending on your jurisdiction) there are often ample viable spaces you could make work. A gated space works best, in my experience, because you don't have to worry about the safety of the kids as they roam the grounds. If you can't find a gated location, set clear boundaries to keep everyone in the right space.
2. Set the date in advance. I typically start working early with a core group of friends/families to pick a date that works for us. While it has definitely become a "more the merrier" type of event, you want to make sure you are picking a date that works well for all the organizers. We keep ours a few weekends out from Easter Sunday, so that participants can do family events or other larger events if they wish, and still get to participate in a community hunt.
3. Set ground rules for every participant. For our hunt, we require each family to donate at least a dozen eggs filled with treats. This way no one feels a financial burden, and normally people are very generous with several dozen donated. Each kid then walks away with way more eggs than you would expect!
4. Keep allergies in mind. You can put candy in eggs, but we have a hard rule that if it contains known allergens for your group, the egg should be marked with a clear identifier for the parents. For instance, an X drawn with sharpie, or a sticker. You can let your older kid know to look out for the ones with the markings if they have particular allergies.
5. Collect the eggs. About a week in advance I set up several egg drop-off events. Our group has grown to about 50 participating families, so this kind of collection is necessary. Our community is full of families that work all kinds of schedules, so we try tp vary the time of day for drop-off. If you have a smaller group you may want to just all meet up the day before and pool them with the lead organizer.
6. Give yourself time. Even in a small space hiding around 300 eggs takes time. Don't rush yourself, set the hunt up for early afternoon so you (and the other organizers) have plenty of time to hide the eggs. This is also good because you can hit that sweet spot between naps for the various ages.
7. Set up age groups. Young kids make such developmental leaps even in the under 5 set, that it makes sense to divide the hunting and seeking into waves that allow the very youngest to go first. Kids under 3 are normally done "hunting" within 20-30 minutes. They maybe collect 10-12 eggs if they are especially keen on it. So let the older kids come and do the real seeking work after the little ones have had their fun! This also greatly minimizes drama. If you are hosting older kids, consider saving a few extra special eggs for them to search for (a la the Golden Egg filled with money or a special prize).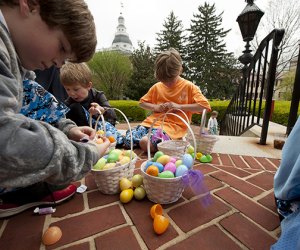 8. Bring extras. Extra baskets or paper bags on hand are good for families who may expect them. This isn't strictly necessary, but it's a nice bet to help include those who may have decided last minute to join. Also extra treats- sometimes the eggs break and treats get lost, this helps soothe hurt feelings.
9. Plan for family fun. The first year we hosted the event it was just a traditional hunt, but there was definitely a desire to linger. So we have turned our event into a potluck. It's low key and everyone brings a little something if they want to hang out later. As a parent of young kids, social events like this are kind of magical because no single person is on the hook for everything. There is plenty of space for kids to roam, and adults can have a real conversation!
10. Save your eggs. If you plan to make this an annual event, save the eggs so you can cut down on errands next year when you host your next fun hunt! Especially as the organizer you might be surprised by how many eggs lay unclaimed by weary toddlers. No need to trash them, just save them for next year!
Photos by Maryland Govpix via Flickr.
t Click Here to Sign Up!