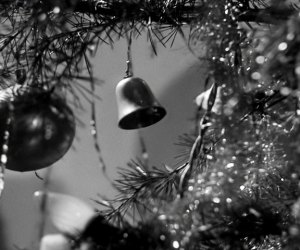 Where to See Your Favorite Family Holiday Movies on the Big Screen in Boston
One of my family's favorite traditions is watching all of the classic holiday movies. We start right after Thanksgiving to get us in the holiday spirit as we get our tree, bake cookies, and wrap gifts. Usually we watch these movies at home on our couch with popcorn and pajamas, but there's something really special about seeing a film on the big screen. With that in mind, here's where you and your family can catch all of your favorite holiday flicks at movie theaters and libraries in or near Boston this season:
Showcase Cinemas, Legacy Place in Dedham; Lowell; Patriot Place Foxborough; Randolph; Revere; Woburn
Starting the Saturday after Thanksgiving, Showcase Cinemas in the area are screening four holiday films on four consecutive Saturdays. The shows were set up with kids in mind, so they have a 10am start time. And the movies are free with a donation of a nonperishable item for a food pantry. The movies being shown this year are: Miracle on 34th Street, A Christmas Story, It's a Wonderful Life, and White Christmas.
Bank of Canton, Canton
Come to the Bank of Canton's Corporate Headquarters Auditorium on December 9 for a free showing of The Muppet Christmas Carol. The film tells the classic Charles Dickens' story in a family-friendly format featuring all of your kids' favorite muppets. Reservations are required.
Brattle Theatre, Cambridge
From December 16-18, the quirky Brattle Theatre in Harvard Square is showing a quintessential seasonal film: It's a Wonderful Life. The movie traces the life of George Bailey, played by Jimmy Stewart, as he contemplates what the world would be like without him in it. It's a bittersweet movie with a very happy ending.
The Boston Public Library is screening several holiday movies at its many branches this season. Here's a rundown of what's being shown:
Central Library, Back Bay
The beautiful Central Branch of the Boston Public Library is screening March of the Penguins and The Lion, The Witch and The Wardrobe for free this December. These aren't exactly holiday films, but they're wintry and will definitely get kids in the spirit.
Fields Corner Branch, Dorchester
As a kid, The Best Christmas Pageant Ever was one of my favorite holiday tales. This year, your family can fall in love with it too when the Fields Corner Branch of the library screens it on Christmas Eve. Plus, it's free!
Grove Hall, Dorchester
The Grove Hall Branch of the library is the place to be this season if you love holiday movies. Kick off the season on December 1 with a reading and screening of the classic, The Polar Express. On December 22, come to the library for Family Night, which includes cookie decorating and a showing of Rugrats holiday episodes. And on Christmas Eve, get in the holiday spirit with How the Grinch Stole Christmas. If you have preschool-age children, the Fields Corner Branch is showing winter and holiday flicks during Preschool Movie Hour every Friday at the library in December. The best part? All of these movies are free.
Honan-Allston Branch, Allston
On December 21, bring the whole family to the Honan-Allston Branch of the library for an evening of holiday cheer. Kids are invited to wear their PJs to a free showing of The Polar Express. There will be cookies and hot cocoa to snack on and time to make a seasonal craft to take home.
Lower Mills Branch, Dorchester
Start each weekend in December off with a holiday movie when you come to the Lower Mills Branch of the library. The free seasonal films are being shown every Friday afternoon. The movies being shown this year are Nightmare Before Christmas, Christmas in Connecticut, Holiday Inn, Shop Around the Corner, and Holiday Affair.
South End Branch, South End
If you can't make it to the Lower Mills Branch on Friday afternoons this December, come to the South End Branch instead. The library is showing free seasonal flicks every week to get you in the holiday spirit. The movies being shown this year include A Christmas Story, National Lampoon's Christmas Vacation, and It's a Wonderful Life.
Bonus: Coolidge Corner Theatre, Brookline
The Coolidge Corner Theatre regularly screens movies just for kids that start early in the day to accommodate nap times. This December, the theater is showing Hugo, an Academy Award-winning children's film. It's not a holiday movie, but it's a great family-friendly activity during a hectic season.
---
Top image from It's a Wonderful Life courtesy of Insomnia Cured Here.