Birthday Club Freebies: Where Kids Eat Free and Get Gifts on Their Birthday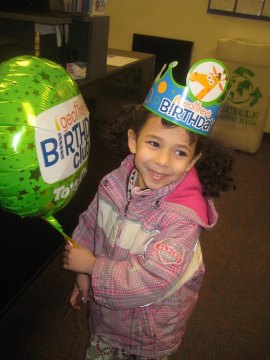 When a child's birthday rolls around, I always make a point of congratulating the parents. After all, they did the work, they should reap the praise. Something else they should reap the benefits of: All those corporate birthday clubs (like Toys R Us and Chuck E. Cheese's) that promise to make your kid's big day even more special with fun freebies like complimentary gifts, food and other deals.
While we usually don't push big national chains some of these birthday clubs are pretty sweet, and most have locations in all five boroughs so there's bound to be an outpost near you. To take advantage of all there is to offer, we've rounded up a list of kids' birthday clubs in the New York City and beyond.
Toys R Us Geoffrey's Birthday Club
This one is my personal all-time favorite. Toys R Us Birthday Club. Kids 10 and under get a (prerecorded) call from the store's mascot Geoffrey the Giraffe and a birthday card with a coupon good for your next in-store purchase. When you come in to use that coupon, the birthday child gets a crown, a balloon and, at the NYC flagship store in Times Square, two free tickets to ride the Ferris Wheel! Best of all: You don't have to use it on your child's actual birthday. You can come in a few days early and use the coupon to pick up party supplies, or after the fact for a trinket and a ride (my daughter's birthday is in the winter, so I save the coupon for the week-long Presidents' Day break). TRU's customer service is also excellent: Not only do all the employees at the store make a point of wishing your child a great day when they see the festive crown ("Everyone is so nice here!" my five-year-old gushed), but when we failed to get the card on time this year, I called the main office where a very helpful representative made sure one was in the mail the next day.
Kmart Birthday Club
A similar deal is available at Kmart, where members of the Birthday Club get a surprise Fun Pack and $5 in Birthday Bucks, redeemable at both the Penn Station and Astor Place locations.
Chuck E. Cheese's
If you sign up for Chuck E. Cheese's list, you'll receive an email on your child's birthday and half-birthday with coupons for free tokens, plus other special offers throughout the year.
Baskin-Robbins Birthday Club
The ubiquitous ice-cream chain, which boasts ten locations in Manhattan alone, also has a Birthday Club. Sign up online and you'll receive an e-mail five days before your child's birthday good for a free cone, plus a cake discount coupon.
Burger King Crown
Burger King requires parents to set up their own account to go with their child's in order for those under 13 to receive a coupon for a free kids' hamburger meal. Signing up to BK Crown also gives your child access to online games, activities and crafts.
Applebee's
The restaurant offers a free dessert for the birthday kid (although you'll probably have to buy a meal first).
California Pizza Kitchen Kids' Birthday Club
Give your kids a free taste of the West Coast at California Pizza Kitchen with a free kids' meal that's valid throughout their birthday month.
The Children's Place Birthday Club
If you're not a fan of fast food, how about new clothes? Children's Place lets parents add their own birth date as well as their kids'. Around each birthday you'll get coupons that can be used online or in the chain's many stores.
Old Navy Birthday Club
Old Navy also has a Birthday Club for parents and kids, but the chain's vaguer about its goodies, only promising "an exclusive treat."
Olan Mills Birthday Club
Now that the kids have new duds, visit an Olan Mills Portrait Studio for a Free Favorite Pose Package, including one 8x10, one 5x7 and four wallet-size pictures, as well as 20% off additional portraits. The offer is only good for children 3 and under.
Barnes & Noble Kids' Club
Older children, however, can enjoy birthday gifts from B&N, where Club Members can pick up a cupcake at the bookstore's cafe and also make a free digital book via Tikatok.com
Ace Hardware Kids' Birthday Club
And here's a bit of a wacky one: Ace Hardware has a Kids' Birthday Club but will only tease a "special surprise" when a child visits a participating location during his or her birthday month.
I'm not sure if I'm ready for a kid hyped up on sugar, wearing party clothes and wielding a power saw.
Know of any other great kids' birthday clubs? Let us know in the comments below. You can find more cool birthday posts in our Party Guide.